Watching Game 4 of the World Series, you may not have felt as exhausted as Brett Phillips did when the plane celebration ran out of fuel, but you probably came pretty close. Baseball is at its best when it's full of unresolved tension, and until that moment of catharsis when the Rays highlight-reel celebration ensued, there were a good six or seven innings of nonstop pressure Saturday night.
Looking at the win probability graph for Game 4 illustrates the rollercoaster everyone rode: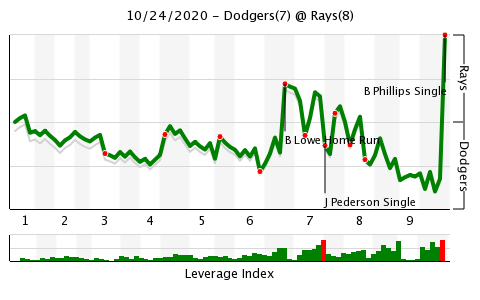 The sheer number of peaks and dips is scary. The outcome was mostly in doubt for the final two-thirds of the game and the arrow of fate couldn't decide where it was going. For a much less suspenseful game, let's look at an earlier Dodgers tilt this postseason, the Game 3 NLCS laugher against the Braves that started with an 11-run first inning: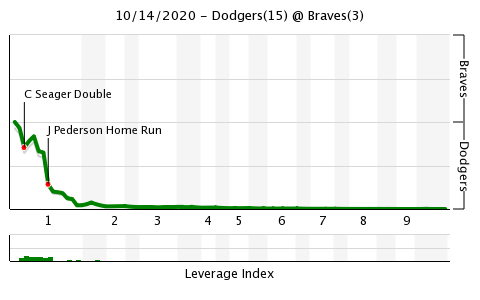 Given how little suspense there was, that might as well have been a graph of fan interest. While the Dodgers were rightly pleased to bank such an easy win, watching eight-and-a-half innings of baseball that's all but certainly decided isn't the most compelling viewer experience. I was still watching the game, but at that point, I was paying more attention to the Paladin I was leveling in World of WarCraft!
So how does Game 4 fit into baseball history? To answer this question, I took every win probability change for all 125,000 plays in postseason history in postseason history and tracked them on a game-by-game basis. I then crunched the numbers to determine which games had the most change in expected outcome per event and thus to see how all 1,668 games ranked in terms of volatility. If you thought you were watching a special game, you were right; the uncertainty in Game 4 was definitely meaningful on a historic level:
Most Volatile Games in Postseason History
| Game | Total Probability Change | Plays | Probability Delta per Play |
| --- | --- | --- | --- |
| 2020 World Series Game 4, Dodgers at Rays | 6.13 | 86 | 7.12% |
| 1995 NLDS Game 1, Braves at Rockies | 5.81 | 82 | 7.09% |
| 1995 ALDS Game 1, Red Sox at Indians | 7.50 | 107 | 7.01% |
| 1980 ALCS Game 3, Royals at Yankees | 5.96 | 90 | 6.62% |
| 2011 World Series Game 6, Rangers at Cardinals | 7.17 | 109 | 6.58% |
| 1995 ALDS Game 2, Mariners at Yankees | 7.77 | 122 | 6.37% |
| 1912 World Series Game 2, Giants at Red Sox | 5.92 | 93 | 6.37% |
| 1986 ALCS Game 5, Red Sox at Angels | 5.86 | 94 | 6.23% |
| 2000 World Series Game 1, Mets at Yankees | 6.25 | 101 | 6.19% |
| 1924 World Series Game 7, Giants at Senators | 6.11 | 99 | 6.17% |
| 2017 World Series Game 5, Dodgers at Astros | 6.22 | 101 | 6.16% |
| 2004 ALCS Game 5, Yankees at Red Sox | 7.75 | 126 | 6.15% |
| 1995 ALDS Game 5, Yankees at Mariners | 5.94 | 97 | 6.12% |
| 2020 ALWC Game 2, Yankees at Indians | 5.68 | 93 | 6.11% |
| 1910 World Series Game 4, Athletics at Cubs | 4.88 | 80 | 6.10% |
| 1972 ALCS Game 1, Tigers at Athletics | 5.17 | 85 | 6.08% |
| 2009 NLDS Game 4, Phillies at Rockies | 5.22 | 86 | 6.07% |
| 1980 World Series Game 5, Phillies at Royals | 4.67 | 78 | 5.99% |
| 2001 World Series Game 4, Diamondbacks at Yankees | 4.61 | 77 | 5.99% |
| 1999 NLCS Game 5, Braves at Mets | 7.50 | 126 | 5.95% |
For games prior to 2002, I used the probabilities from stathead.com.
1. 2020 World Series Game 4, Dodgers at Rays
You really should remember this one without a description, but if you're going through your own personal Groundhog Day-scenario and have repeated October 23 10,000 times, check out the piece written by my colleague Ben Clemens, who recapped the game. I'm still exhausted thinking about this game. Sadly, this isn't even the only game in the top 20 to feature a Kenley Jansen loss.
2. 1995 NLDS Game 1, Braves at Rockies
Chipper Jones went on to play 93 postseason games in his Hall of Fame career. This was the first, and one of two career multi-home run games he had in the playoffs. And both his homers were significant ones, with the first bringing the Braves back to within a run in the top of the sixth inning, and the second, a two-out blast in the ninth off Rockies reliever Curt Leskanic, enough to give the Braves the win as Mark Wohlers was still good at this point.
3. 1995 ALDS Game 1, Red Sox at Indians
The second of three 1995 postseason games to make the top 20! Roger Clemens got into trouble in the sixth against the heart of the Cleveland order, but future Red Sox reliever Julian Tavarez allowed a solo blast to Luis Alicea in the eighth that tied the game. Tim Naehring hit a hard liner for a homer in the 11th, but Rick Aguilera blew the save in the bottom of the inning and it remained tied until Tony Peña (the original one) hit a walk-off shot against Zane Smith in the 13th. The call of the walk-off is a fun one as Bob Costas seemed unaware of what was going on in the game until the moment he heard Peña connect. Including the regular season, this win pushed the Indians to 14-0 in extra-inning games, a streak they continued until ALCS Game 3 against the Mariners.
4. 1980 ALCS Game 3, Royals at Yankees
This one was back in the dreadful days when the championship series was best-of-five, which didn't change until 1985. The Royals swept the Yankees, but it didn't come easily, with the two teams combining for only six runs on 20 hits. After a Reggie Jackson double in the sixth, Paul Splittorff was pulled, with the intention of Dan Quisenberry getting the 3 2/3 inning save (he threw at least three innings 10 times during the regular season). Frank White threw away the grounder on a play to third that George Brett was slow to recover from and a Rick Cerone single scored Oscar Gamble from third to give the Yankees a 3-1 lead.
George Brett's three-run homer turned out to be the difference, but Quiz had another scare when he loaded the bases with a triple and two walks in the eighth. He managed to hold them scoreless.
5. 2011 World Series Game 6, Rangers at Cardinals
This game probably needs little introduction, what with it being The David Freese Game and all. Freese's triple in the ninth, with the Rangers one strike from winning the World Series, drove in Albert Pujols and Lance Berkman, while his home run off Mark Lowe in the bottom of the 11th was the finishing blow.
6. 1995 ALDS Game 2, Mariners at Yankees
With a 4-3 lead, the Mariners decided to roll with Norm Charlton with lefties Wade Boggs and Paul O'Neill due up in the inning. Charlton successfully got Boggs and Bernie Williams out, but O'Neill's homer tied the game. Charlton got to stay in the game and largely atoned for the dinger, throwing three scoreless innings. The Yankees held back Mariano Rivera in a tie game, instead using John Wetteland. The result? Ken Griffey Jr. hit a homer to give the Mariners the lead in the 12th. But Jeff Nelson and Tim Belcher lost that lead in the bottom of the inning.
This time, the Yankees did bring in Mo and he dueled with Belcher for a few frames before Jim Leyritz hit the walk-off shot in the bottom of the 15th.
7. 1912 World Series Game 2, Giants at Red Sox
You could argue that this game is actually baseball's most suspenseful because we still don't have a winner 108 years later! It was a marathon by the standards of the day at two hours and 38 minutes, long enough that it had to be called a 6-6 tie in the 11th due to darkness. Much of that sentence sounds very odd today. Poor Christy Mathewson threw 11 innings and watched his defense give up six runs on five errors, with not even a W in the scorecard to show for it.
Of course there's no game footage.
8. 1986 ALCS Game 5, Red Sox at Angels
Angels manager Gene Mauch allowed starter Mike Witt to attempt to finish a complete game to push past the Red Sox, but a two-run homer by Don Baylor made things interesting. Gary Lucas plunked Rich Gedman and then, one strike from finishing off the Sox, Donnie Moore gave up two-run homer to Dave Henderson, giving Boston a 6-5 lead. The Angels scored a run off Bob Stanley and Joe Sambito, but left Moore out there for the 10th and 11th, something you'd never see a manager do today. Moore hit Baylor in the 12th, and allowed two more singles. Still left out on the mound, Henderson came in and hit a sac fly to give the Red Sox the lead they never lost. Only for the final out did Mauch turn to rookie Chuck Finley, who had a 3.29 FIP in 25 relief appearances in his rookie season that year.
9. 2000 World Series Game 1, Mets at Yankees
The Yankees won the Subway Series in five games, but with every game decided by two runs or fewer, it was a lot closer than the final result would make one think. None of the games were closer than this Al Leiter vs. Andy Pettitte pitchers' duel, a scoreless affair until the Yankees took the lead with a David Justice double in the bottom of the sixth; singles by Bubba Trammell and Edgardo Alfonzo took it back in the seventh. Glendon Rusch survived the 10th and 11th, stranding four runners, but Turk Wendell was less fortunate, allowing a bases-loaded walk-off single to Jose Vizcaino in the 12th.
10. 1924 World Series Game 7, Giants at Senators
Who said the Tampa Bay Rays invented the opener? For Game 7 of the 1924 Fall Classic, second baseman/manager Bucky Harris started Curly Ogden in his first (and only) career playoff appearance. Why? Because the Giants used platoons. By opening with the righty Ogden, the idea was to hopefully get New York to commit to playing as many lefties as possible for the scheduled starter George Mogridge. It partially worked — the Giants started a struggling Bill Terry against Ogden — but the game remained close throughout. Walter Johnson threw four scoreless innings to complete the game and was even allowed to hit for himself with a runner on in the bottom of the 12th. Earl McNeely hit a walk-off double against Jack Bentley.
Dishonorable Mention: 2019 NLDS Game 5, Cardinals at Braves
The Dodgers-Braves NLCS game I mentioned earlier was only the second least-volatile game in postseason history. For the all-time lagger, look no further than last year's NLDS Game 5 between the Braves and Cardinals, in which the Cardinals scored 10 in the first en route to an easy 13-1 victory. Mike Foltynewicz was hit so hard that game that he lost 4 mph off his fastball! Okay, maybe not.
Read More