Nothing can deflate the excitement surrounding a hopeful contender like a leaky bullpen, but
as
is the case most years, several teams have encountered just that kind of luck in the opening weeks of the 2020 season. At various times, the relief corps of the
Cubs
,
Reds
, and
Padres
have all been a hurdle for those teams to overcome, rather than an asset assisting them in their playoff pursuits. As much as those units and others have struggled this season, however, no team's group of relievers has made victories harder to achieve than that of the
Phillies
. Their bullpen ERA of 8.00 is the worst in
baseball
by more than two runs. Unsurprisingly, that has had a big impact on Philadelphia's postseason hopes — at 10-14, the team is last in its division, and second-worst in the National League.
Instead of packing it in, however, the Phillies have dialed up some assistance from the last place team in the other league. Late Friday night, Philadelphia struck a deal to acquire right-handed relievers Brandon Workman and Heath Hembree from the Boston Red Sox in exchange for right-hander Nick Pivetta and minor league arm Connor Seabold. Boston also sent $815,000 in cash to complete the swap, assisting the Phillies in paying the $1.05 million owed to the two relievers for the rest of the season.
Of the pair heading to Philadelphia, Workman offers the most upside. A Tommy John survivor who was still spending significant time in the minors as recently as 2018, Workman broke out in 2019 with some truly elite numbers — a 1.88 ERA, 2.46 FIP, 2.1 WAR, and 13.06 K/9. When I
examined
him near the end of last season, I found he'd made a number of changes to his approach. He was suddenly throwing his curve nearly half of the time, and had found a way to to dramatically reduce the number of strikes he threw without suffering a noticeable drop in opponents' swing rate.
Workman has remained very curveball-reliant in 2020, but his overall stuff has taken a step back. According to Baseball Savant, the vertical movement on his curveball and the horizontal movement on his fastballs have all diminished considerably.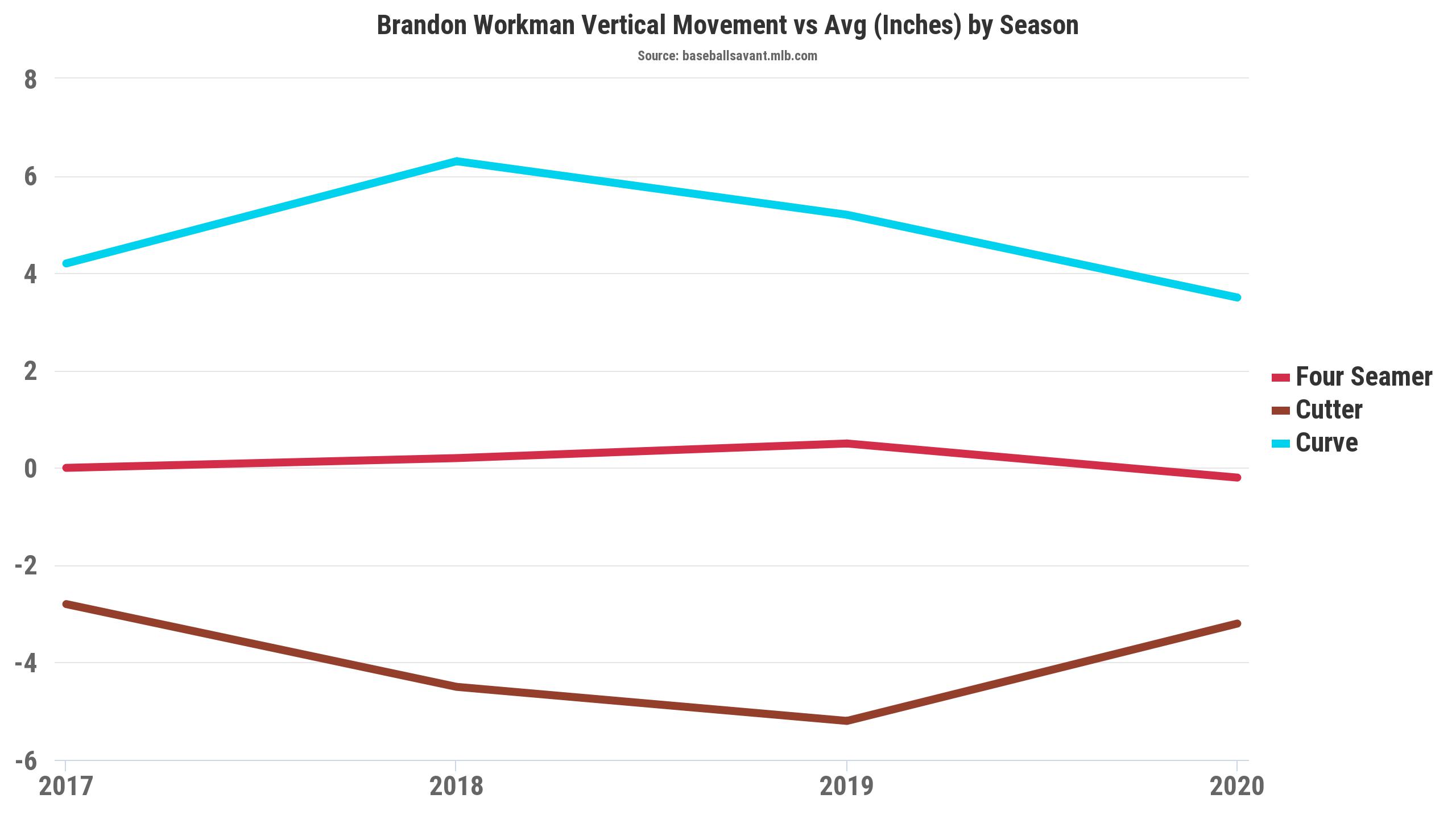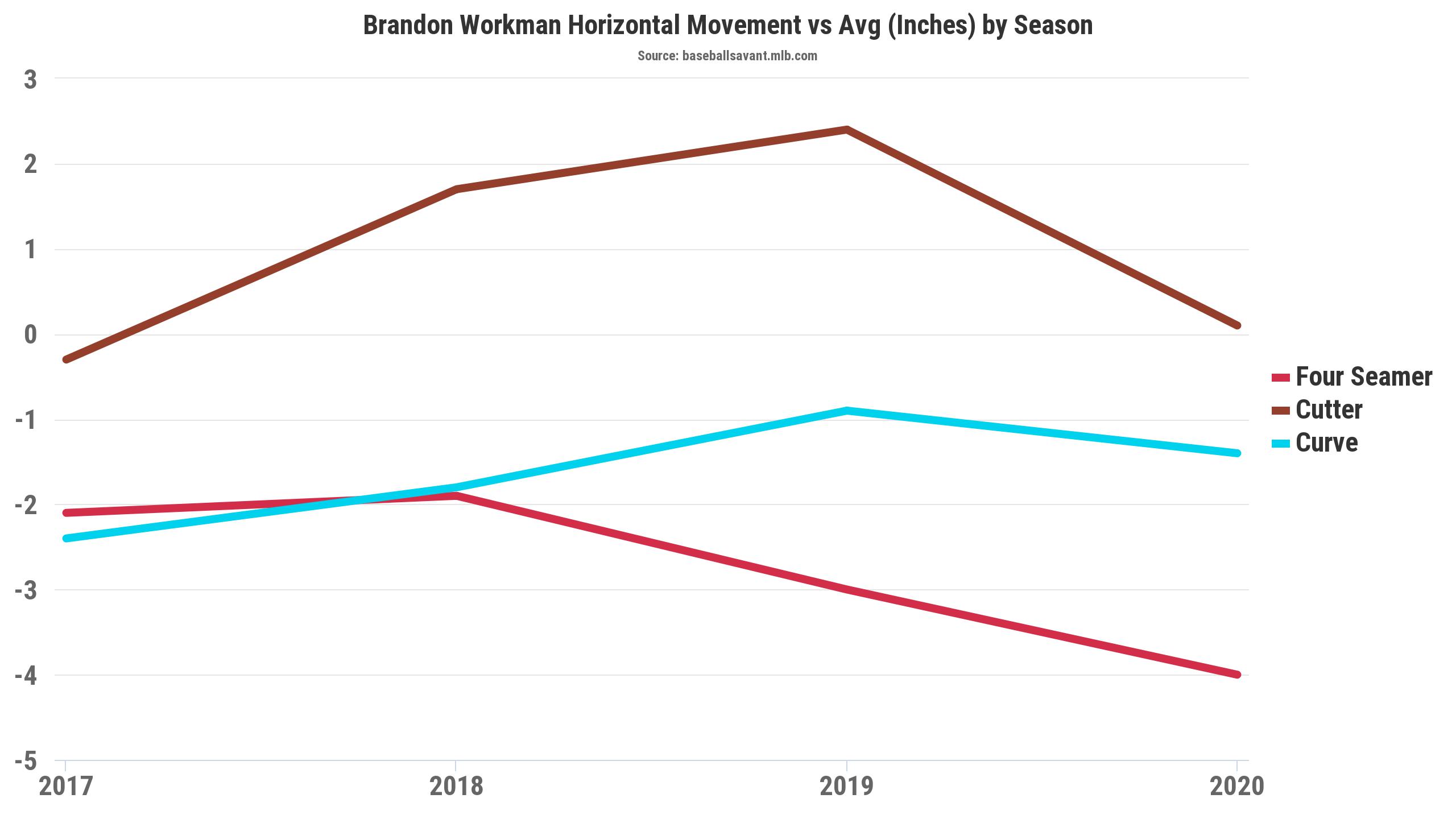 Perhaps as a result, Workman has been unable to get batters to chase with the same regularity he did a year ago, which has in turn forced him to throw more strikes, resulting in a lot more contact.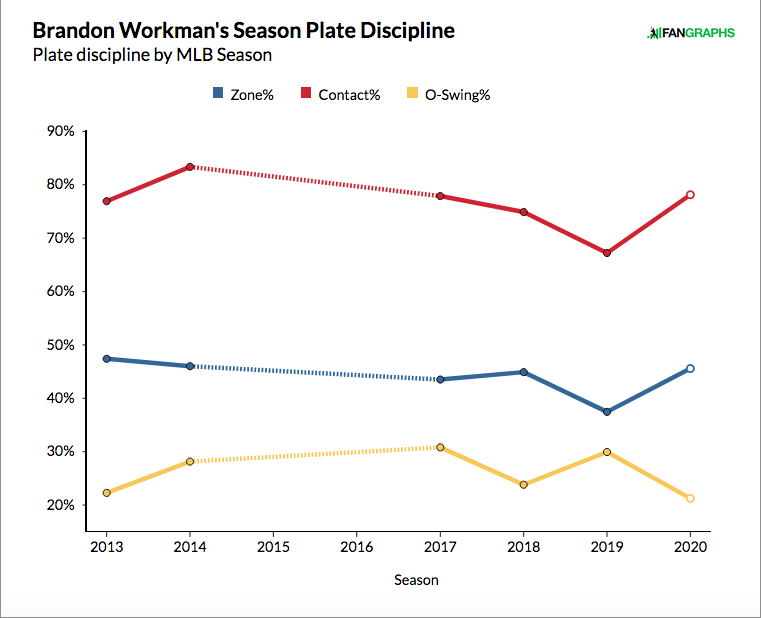 You wouldn't describe any of this as encouraging, per se, but we are looking at just eight innings here compared with 71.2 innings he threw in 2019, and both Workman's velocity and his spin rates have remained steady. He's 32 and is in line to be one of the better free agent relievers available this winter, making him exactly the kind of pitcher the Phillies should be getting a closer look at if they want to spend some money on the bullpen in the offseason.
Hembree, 31, is under team control through the end of 2021, and heads to Philadelphia after having spent seven seasons in Boston. His best season came back in 2016, when he owned a 2.65 ERA and 3.83 FIP, but he's been a perfectly steady reliever ever since. Over his last five seasons with the Red Sox, he's held a 3.68 ERA and 4.16 FIP in 222.1 innings, making him one of the more consistent pitchers in an often above-average bullpen. He's allowed six runs on nine hits in 9.2 innings this season, with 10 strikeouts and three walks.
With their respective debuts for their new team over the weekend, Workman and Hembree already became the 17th and 18th pitchers to appear out of the Phillies' pen this season. Philadelphia's bullpen was always going to be something of a work in progress in 2020. Two of its relievers from last season, Juan Nicasio and Nick Vincent, left in free agency, and Edgar Garcia was traded to the Rays in the offseason. Seranthony Dominguez, meanwhile, is missing this season because of an elbow injury, which means four of the 10 Phillies relievers who were above replacement level last season didn't rejoin the group in 2020.
Those who have remained have been a bit of a mess.
Philadelphia Phillies Bullpen, 2020
One of the names on this table is in Boston now. Pivetta, a 27-year-old right-hander, was an interesting and productive starter as recently as 2018, when he threw 164 innings in the Phillies rotation and finished with a 4.77 ERA, 3.80 FIP and 2.8 WAR for the season. Instead of building off of that promise last year, though, he faltered, allowing a 5.74 ERA and 5.72 FIP over his first 13 starts. That saw him get moved to the bullpen in an extended relief role, where he threw 24.2 innings with a 4.38 ERA and 4.75 FIP.
He's remained in the 'pen to open this season, but it's likely he'll get another chance to start for Boston, a team desperate for rotation help. As Jon Tayler covered here last week, the Red Sox have just two starters — Martin Perez and Nathan Eovaldi — who have actually turned in above-replacement-level pitching on a consistent basis this season. Beyond that, it's been a disaster, with nine other pitchers getting starts already, many of whom did so as an opener.
While Pivetta doesn't make the Red Sox any more of a contender than they were before the trade, he does deliver some upside as a project for future seasons. Pivetta has been a tick off his typical fastball velocities this season, and has lost a good bit of the near-elite spin he once had on his curveball. He's still just 27, though, and can be controlled for three seasons beyond this one. There's a good chance he delivers some real value in exchange for two relievers who were going to have minimal impact on Boston's hopes for contention in this season or the next one.
Seabold is a third round pick from 2017 whose carrying trait is his command. In seven Double-A starts last season, he threw 40 innings with a 2.25 ERA, 36 strikeouts and 10 walks, but he also missed significant time with an oblique injury. He went unmentioned in Eric Longenhagen's Phillies list this season after being an honorable mention on the 2019 list, but others are higher on him, with MLB Pipeline slotting him in at 21st in Boston's system.
Whether the move is enough for Philadelphia to break through to October remains to be seen — the team's playoff odds as of this morning sit at 44.5% — but it can't hurt. When you're in last place, there's nowhere to go but up, after all.