As a long, likely-bleak offseason began late last week, many teams opted out of the final year of players' contracts, often with the seeming goal of beginning this winter with as little committed money on the books as possible. Tampa Bay will not bring back Charlie Morton, one of baseball's best starting pitchers. Cleveland will not bring back Brad Hand, one of baseball's best relievers. Some teams will use the money saved on these unexercised club options to pursue other free agents they feel will provide more value; many are likely to simply pocket the savings as a means of recouping what they say the COVID-19 pandemic cost them. The bar for players hoping to land any kind of guaranteed money this offseason appears to be quite high; in the eyes of the Houston Astros, left-handed reliever Brooks Raley cleared it.
Raley's $2 million club option (he'll make just a $250,000 salary in the minors) for the 2021 season isn't close to the double-digit price tag that Morton or Hand's would have cost their clubs, but the specific figure in play here doesn't feel as important as the fact that Houston was willing to pay Raley in the first place. His numbers this season — a 4.95 ERA and 3.94 FIP in 20 innings — aren't anything special. Other relievers with similarly-priced club options and perfectly good 2020 production, such as Javy Guerra and Darren O'Day, were turned loose by their respective clubs. In a depressed spending environment, the prices for high-leverage relievers this winter could turn out to be low. For Houston to commit to Raley before free agency even begins shows the team must see something valuable in him.
The Astros were already demonstrating their belief in Raley when they used him rather aggressively during this year's surprisingly deep playoff run. In the ALCS alone, Raley pitched in four games, holding the Rays without a run across three innings while striking out six and walking two. That usage — particularly in close games — was reflective of just how thin the Astros had become at the back of their bullpen, but it also showed how fond Houston had grown of Raley in his short time with the team.
If this year's postseason was the first you'd ever heard of Raley, you probably aren't alone. And if you got curious and looked him up, you may have been surprised to learn just how long he's been around. The 32-year-old lefty was a sixth-round pick of the Chicago Cubs in 2009; he pitched sparingly for them in 2012-13 before being placed on waivers. His run on the waiver wire saw him shuttled to the Twins and then the Angels, but neither found a home for Raley on their big league roster. Lacking interest from MLB squads, Raley answered a call from the Korean Baseball Organization's Lotte Giants, who offered him a rotation spot he never relinquished. From 2015-19, Raley started 151 games with the Giants, proving to be a durable, if not necessarily dominant, starter.
He made his return to the majors in 2020 after signing a minor league deal with the Reds, who only gave Raley four appearances before trading him to Houston for a PTBNL. Having gone seven years without pitching in the majors, his first few outings were shaky. But after allowing eight runs in his first nine appearances, Raley was brilliant in September, allowing just two runs on three hits, a walk and 11 strikeouts in 8.2 innings.
Put it all together, and Raley threw 25.2 innings between the regular season and the playoffs this year, and delivered inconsistent results in that small sample. And yet, I'm here to tell you Raley has already stood out. Despite only modest velocity — his hardest fastball only sits around 90 mph — he misses bats, with a whiff rate in the 79th percentile of all major leaguers. Raley also produces very, very weak contact; no pitcher in baseball this year recorded a lower average exit velocity than his 81.7 mph. The list of pitchers who do both of those things that well is a short one. Here's a plot of every pitcher with at least 50 batters faced in 2020, with Raley's data point highlighted in yellow: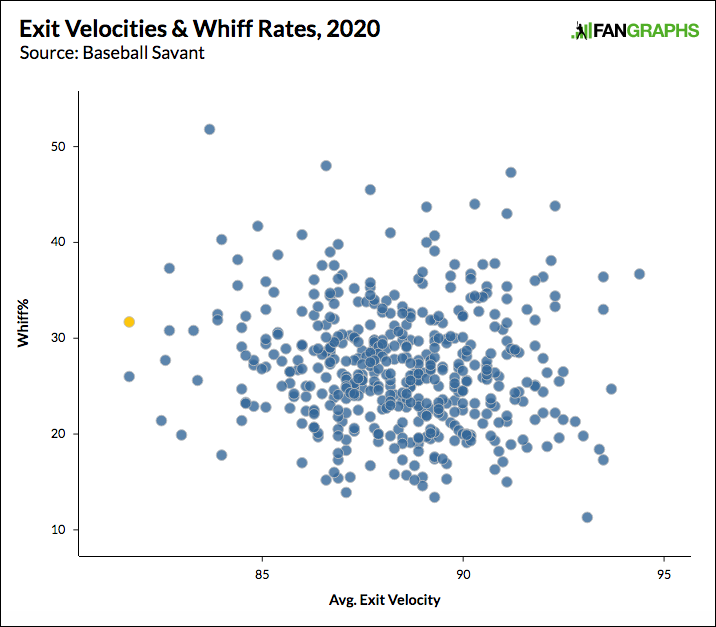 The further you are toward the upper left corner of this graph, the better. Raley, with that in mind, isn't the most impressive plot on this graph — say hello to Devin Williams, way up there by himself — but he is one of the most interesting, one of only a select few who can strike out lots of guys without sacrificing a bunch of loud contact. There just aren't many ways for hitters to beat you with this kind of profile, especially since Raley isn't particularly walk-prone.
If you're skeptical about Raley's ability to keep up this over a larger sample, I don't blame you. But there are a lot of things working in his favor. For one, he boasts incredible spin on everything he throws — something that, when considering which two teams employed him in 2020, shouldn't come as much of a surprise. His fastball and curve spin both rank in the 94th percentile, according to Statcast. Raley also benefits from having a much deeper arsenal that most relievers. He isn't your standard fastball/slider lefty. He has six different pitches, several of which he's willing to throw in any count.
And with the help of that elite spin rate, those pitches move. The cutter, slider and curveball that Raley throws all move hard away from lefties to a degree they rarely see:
Brooks Raley Horizontal Movement
| Pitch | H-Movement | Vs. Avg | MLB Rank |
| --- | --- | --- | --- |
| Cutter | 5.5 in | 3.0 in | 6th |
| Slider | 15.9 in | 7.2 in | 12th |
| Curveball | 14.4 in | 5.9 in | 12th |
SOURCE: Baseball Savant
If you limit the sample to lefties, Raley stands out even more. No southpaw in baseball has more horizontal movement on his cutter, just one has more slider movement, and just two have more curveball movement. As you may imagine, lefties tasked with chasing down these pitches have hard time doing so — the 36 who faced Raley in 2020 produced a wOBA of .188, struck out 14 times, and had a ground ball rate over 50%. Ask Brandon Lowe how fun it is to face Raley from the left side:
It will take more than the 47 batted balls Raley allowed in the regular season to surmise whether his soft-contact wizardry is the real thing. But when considering his low velocity and his a deep arsenal of junk pitches that all move a great deal, his ability to suppress hard hits makes sense. A pitcher can make his money by missing bats, or he can make his money generating lots of weak contact. Raley does both, and the Astros thought that was worth $2 million. It would have been awfully strange if they didn't, but that hasn't stopped teams before.
Read More