With half of the season in the books, the
Atlanta Braves
are holding down first place in the National League East. In this season of expanded playoffs, that translates to a 92.4% chance of reaching the postseason. Accordingly, they're buyers at the trade deadline, with an eye towards shoring up their postseason rotation. To that end, they made a deal with the
Orioles
today, acquiring starting pitcher
Tommy Milone
in exchange for two players to be named later:
Atlanta #Braves Acquire Tommy Milone: pic.twitter.com/y2mO0iyqgp

— Atlanta Braves (@Braves) August 30, 2020
Wait, Tommy Milone? He's an odd addition to a team that looks like a lock to make the playoffs; Atlanta is looking for players to help in the postseason, not help them get there, and Milone is more the latter than the former.
They've struggled mightily with rotation depth, however, as expected starters Mike Soroka and Cole Hamels are on the shelf with injury. Hamels could theoretically return for the playoffs, but that's iffy at best, and Soroka is out for the year. Ten different players have made starts for Atlanta this season, hardly the stability they'd hoped for. Milone can, if nothing else, provide them with bulk innings. For a pitching staff that's already running out Robbie Erlin, Josh Tomlin, and rookie Ian Anderson, that's quite valuable.
Of course, it's only valuable if Milone is better than what they already had available. From 2016 to 2019, he threw 255.2 innings and was worth a whopping -0.1 WAR. An 18.5% strikeout rate from a fly ball pitcher won't cut it in this age of lively baseballs and batters looking to do damage in the air. Milone was freely available this offseason, and the Orioles signed him to a show-me deal; $800,000 on a minor league contract with an invitation to spring training.
The deal worked out better than the Orioles could have expected. Milone has struck out a career-high 24% of opponents while walking only 3.1%. He performed well enough in camp that the Orioles named him their Opening Day starter, and though that start was a disaster, he's been solid since. His 0.6 WAR ranks second among Braves starters, behind only Max Fried.
It's not immediately clear why Milone has been so successful. His pitch mix is the same as always: a mid-80s fastball and upper-70s changeup, seasoned to taste with sliders and curveballs. It's not a bat-missing arsenal, but hitters haven't been able to figure him out this year; his 12.1% swinging strike rate is a hair above league average, only the second time in his career (after his abbreviated 2018 stint in Washington) that's been the case.
If there's anything anomalous about Milone's underlying statistics, I certainly haven't been able to find it. He's in the zone about as often as always, though he's getting more aggressive than ever on the first pitch of at-bats. Batters simply haven't been able to hit his fastball; they're missing on 20% of their swings against it, by far the highest rate of his career.
The fastball hasn't changed shape, usage, or speed. If you're a skeptical sort, you might say that Milone has had stretches like this before and still hasn't been a useful piece: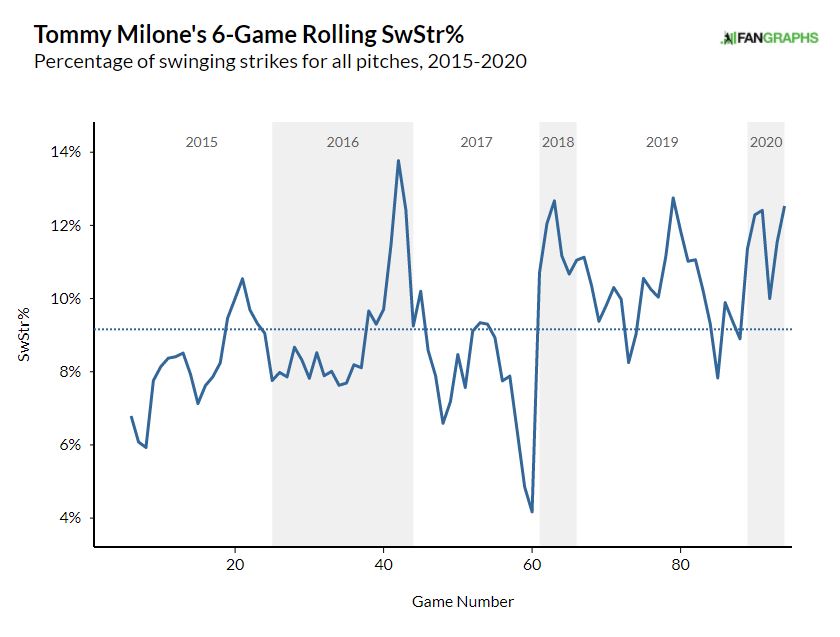 Of course, the Braves didn't pay the going rate for a useful piece. They're sending two players to be named later, and depending on who those players are (we haven't heard any indication that they'll be notable), their biggest cost might be roster flexibility. To find space for Milone on the 40-man roster, the Braves designated Matt Adams for assignment. Adams started the season as the team's everyday DH, but since Nick Markakis opted back into playing, he's lost playing time, and players of his rough skill set aren't hard to find; the Braves, in fact, picked him up off of waivers from the Mets.
Will this be the trade that turns the Braves from nobodies to World Series champions? No. But they weren't nobodies — again, they're leading the NL East. And they don't expect Milone to be their ace, or even (probably) to pitch to the level he's displayed this year. They merely need him to eat some innings. Put it that way, and their odds look pretty good.
For Baltimore, this deal is more important for signaling than substance. Milone is a free agent after this year and clearly isn't a part of the Orioles' future plans. The only reason to keep him would be if they thought they could make a run at the playoffs this year. At 14-18, they're 3.5 games behind the Blue Jays for the last spot in the AL, and our odds give them only a 3.5% chance of reaching the postseason. They decided to take two lottery tickets — and players to be named later can turn into valuable major leaguers, though they don't often work out — rather than go through the motions of giving Milone another month of starts. It's a light return, but probably a fair one for Milone.