Before I say anything, take a look at this Raimel Tapia sac fly, which scored Matt Kemp in the bottom of the ninth at Coors Field last night.
It is incredible how the stakes of professional sports manage to be world-shakingly massive and completely meaningless at the very same time. At stake in any given baseball game is millions of dollars of investment, millions of hours of training, the hopes and dreams of millions of fans, the dedication of entire lifetimes. And yet, the only thing physically at stake is how, exactly, a small leather ball will travel through space: whether it will leave the stadium, or land in the catcher's glove; whether it will be caught, or hit the grass; whether it will stay firm in the grip of a player's hand, or slide through it, errant, to go off in some unintended direction. If these physical stakes were not so small, to fail when so much is riding on one's ability to succeed would be, I imagine, unbearably devastating. But even the most horrible loss is reliably followed by another game — because they are, in the end, games.
That reliable continuity in the face of constant failure can be very reassuring for a normal, non-famous-athlete person. Life, to paraphrase a very unwise man, is literally all we have. And though the stakes of the average person's everyday activities, taken in the context of the world at large, aren't very high, they are, in another sense, everything. My small, sad everyday failures are just as small and sad and arbitrary as a ball falling from a glove onto a grass field — but because my life is composed entirely of the everyday and the insignificant, even these failures can seem insurmountable. Yet every day, I watch people who have much more to lose than I do somehow rebound from their inevitable failures to play again, and again, and again. Often, I wonder how they do it.
Last night, the Rockies experienced one of the most lopsided games in the history of their franchise — which, given that so much of the history of their franchise took place in a pre-humidor Coors Field, is really saying something. They lost to the Giants 23-5. They used six pitchers, none of whom managed to avoid allowing an earned run; the pitcher who performed the best was, in fact, not a pitcher at all, but a catcher. Three separate players on the Giants had at least six runs batted in, and to add insult to injury, the Rockies had to endure a two-plus minute replay review at Gabe Kapler's request when they were already down 18-2. It was probably one of the worst games any of the players on the Rockies' roster has ever been involved in.
No team in baseball history, as far as I'm aware, has ever come back from a 23-4 deficit in the bottom of the ninth. Even Little League teams have a mercy rule. But the major leagues offer no mercy. Players are trapped within the invented, agreed-upon rules that constitute a sport. They have to go through the motions, as though there's a chance that they could win after all — even after the failures have become insurmountable. To reject this possibility, to simply walk off the field and say well, it's over anyway, would be unthinkable, no matter how much the sentiment might be true.
The Rockies didn't pull off an impossible comeback. They scored but a single run — that sacrifice fly off the bat of Tapia that scored Kemp. The scoring of that one run, in the grand scheme of the season, will make little difference to the Rockies' fates. It's one run scored for Kemp, one driven in for Tapia, one given up for Wandy Peralta, who was on the mound. It changed the final score of the game from 23-4 to 23-5.
The bottom of the ninth in Denver on a night when a long game has been played is dark, and it is cold. In a normal season, there would likely have been a few loyalists still in the stands, sticking it out to get their money's worth; this season, there was just the silent plastic. Either way, it was a pretty dismal scene, and everyone probably wanted to go home. Kemp threw his bat at the first pitch — it landed just foul, too close for him not to have run all the way to first. He jogged dutifully back to the plate, and slapped a solid single into center. Ryan McMahon hit a single almost to the same place. The game that had already lasted over three and a half hours was about to last at least a little longer. Peralta did his best to hurry it up, striking out the 2-for-3 Garrett Hampson, and then undid his good work by walking Tony Wolters, who is running a 24 wRC+ this season. The bases were loaded — but it wasn't urgent. But it was urgent. Did the Rockies standing chilly and distanced on the infield want to score? Or did they just want everything to end?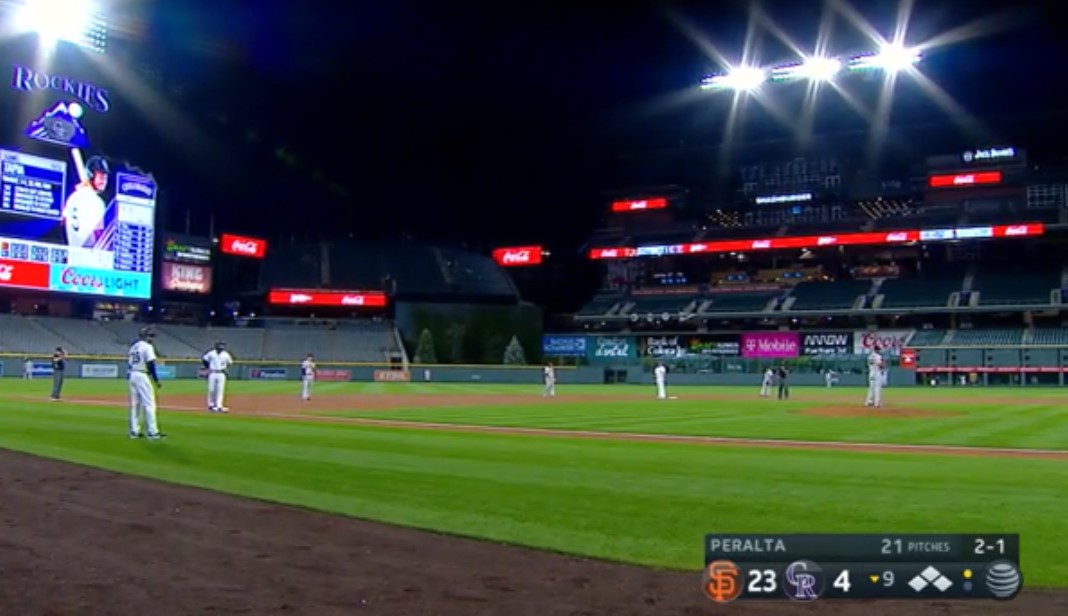 Tapia worked the count in his favor. He took a wild chop at a strike for a foul ball. And then he sent a low, curving fly ball into center, where Mauricio Dubón turned a ball with a .790 xBA into an out.
For the Giants, the motive to do anything they could to end this game was obvious. The novelty of laying 23 runs on a team had certainly worn thin by that point; better to admire the victory from the warmth of a hotel room than from out in the field, waiting for whatever might still come. Dubón's motivation to create an out from a hit was bolstered by the underlying motivation to get the hell off the field. But how did Tapia feel when he saw Dubón snag that ball from just off the dirt? Was he disappointed — that he'd been robbed of a hit, that his team had been robbed of some dignity runs and an opportunity to score more? Was he, perhaps, relieved — the lines between success and failure blurring? His face betrayed nothing: His back turned to the field, he disappeared into the clubhouse. Maybe that's all the answer you need. A few moments later, the game was over, the final embers extinguished. The final score stood at 23-5.
Today, the same Giants will play the same Rockies, and the score will start at 0-0. That would be true if the Rockies hadn't scored that final run, or if they'd won 3-2. Yesterday's failures will last on the stats pages of the players, in the standings, in the history books — all of which will carry forward into the future, with all of its unknown complications. On the field tomorrow, they will play as though that game didn't happen. As if falling into a hole that deep simply didn't matter at all. And in the bottom of the ninth, at the bottom of the hole and with no mercy to call on, the Rockies still played. They still scored a run.
Read More