Thanks to 2020's 16-team postseason format, the
Brewers
hold the dubious record of being the first playoff team in
baseball
history not to spend a single day of the season above the .500 mark. That unfortunate track record continued Wednesday night
as
the Brewers dropped the opening
game
of their three-game
Wild
Card matchup against baseball's winningest team, the
Los Angeles Dodgers
. En route to a 4-2 loss, 15 Brewers faced a strike three and a sad trudge back to the dugout.
While the Brewers were never favored entering this series — or in any of its game if you fancy the ZiPS Postseason Odds — a few nasty surprises before first pitch soured their odds even further. The team had originally reshuffled the rotation to try to line up a possible Game 1 start for Corbin Burnes, who put up a 2.04 FIP, 2.4 WAR campaign, qualifying for the ERA title by a single out (he would have finished fourth). Unfortunately for the Brew Crew, an oblique issue scratched Burnes from the Wild Card roster and likely the postseason. Joining Burnes yesterday was Devin Williams, out with an unspecified shoulder injury.
Already down two of their most important pitchers, the Brewers turned to
Brent Suter
to start Game 1. Their other option was starting
Brandon Woodruff
on short rest, but coming off a 108-pitch win against the
Cardinals
(the most pitches he's thrown in the majors), he was instead held back for Game 2. Suter has extensive experience as a starter, but the Brewers have generally been cautious with him since his return from a 2018
Tommy John
surgery, not letting him hit the 60-pitch mark in any start.
Milwaukee's game plan was for Suter to throw 50 solid pitches over three or four innings and hold out until they could turn to Josh Hader. ZiPS gave the Brewers a better chance of winning against the Dodgers with the Suter option (33%) than it did if the team had instead turned to Josh Lindblom (25%), Adrian Houser (26%), or Brett Anderson (26%).
But that plan unraveled quickly as Suter struggled with his control, walking Corey Seager, Will Smith, and AJ Pollock on four pitches each in the first; he got just a single strike on Max Muncy before issuing him a free pass as well. In the end, it only took a single hit from the Dodgers, a leadoff double by Mookie Betts, to get them off to a quick 2-0 start.
Unfortunately for Suter, his control problems were magnified against the Dodgers, the team that swung at the fewest bad pitches in baseball in 2020, only offering at 26.5% of out-of-zone pitches. He was fortunate to escape with only a two-run deficit, getting a Cody Bellinger fly out and an Edwin Rios groundout, both with the bases loaded.
As a pitcher with a mid-80s fastball, Suter already has a thinner margin for error than most pitchers do. Against righties, he relies on high-risk, high-reward changeups, throwing the majority of them out of the strike zone (66% of his changeups in 2020 were taken for balls) but compensating with a very high whiff rate when batters can't resist the temptation (48%). This is in contrast with, for example, Kyle Hendricks, who throws his changeup to batters on both sides of the plate and stays closer to the strike zone, with only 24% of his changeups against lefties going for balls, but with a lower whiff rate (29%).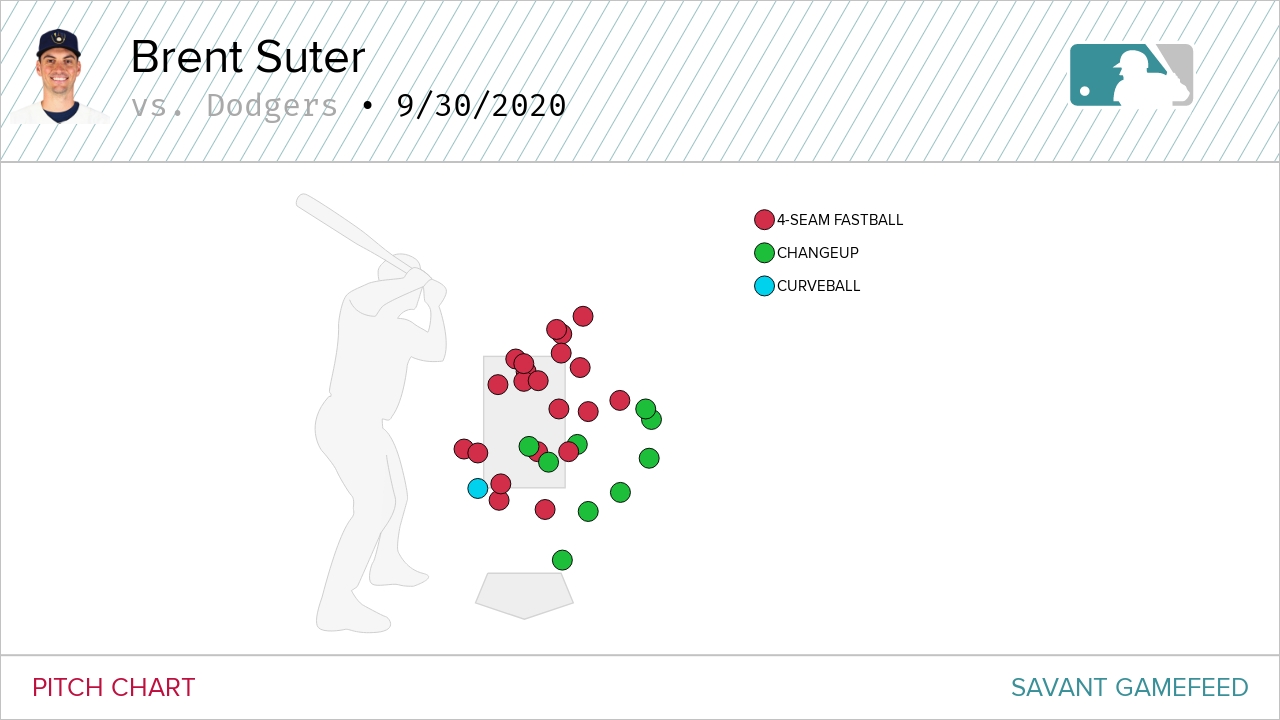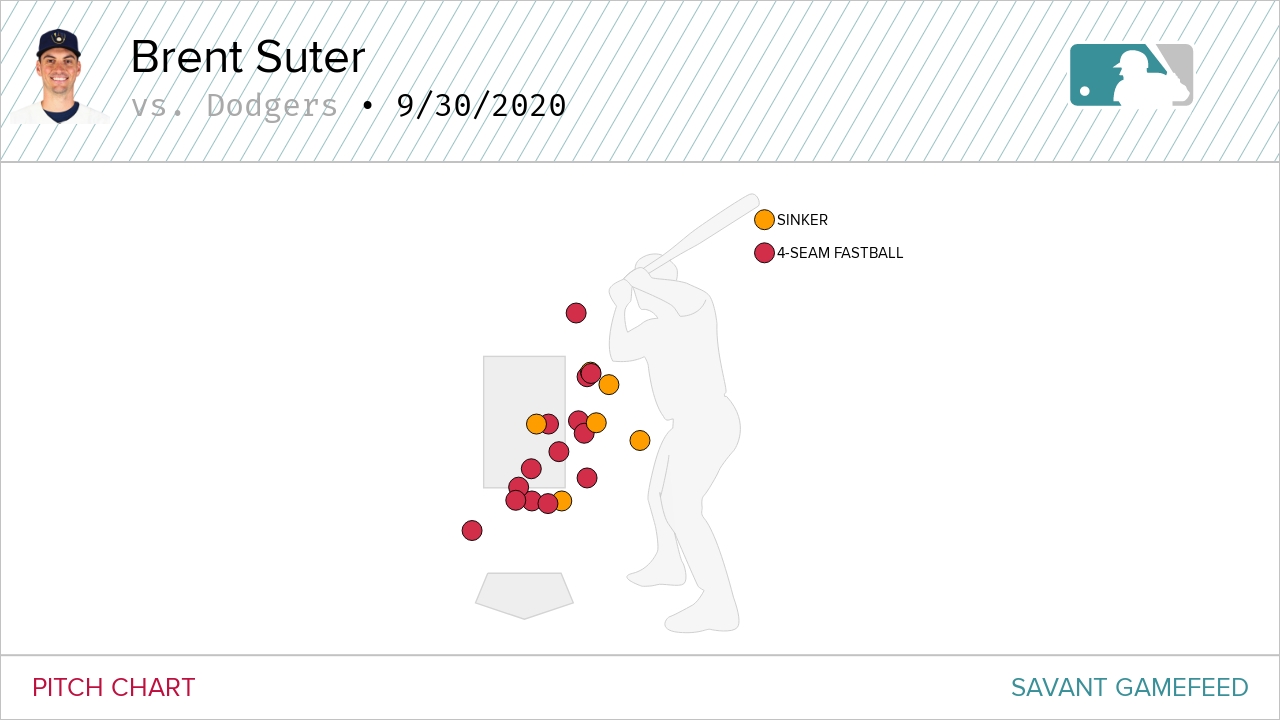 Suter didn't fool any Dodgers, generating just two swinging strikes in 51 pitches. A second consecutive five-pitch walk to Muncy in the second resulted in his merciful early exit from the game. In terms of percentage of pitches that were balls, Suter's start ranks among the worst in playoff history, at least going back to 1925 (the limit of the data Baseball-Reference.com currently has access to):
Playoff Starts With Highest Ball Percentage
Suter's 58.8% mark is the fifth-highest percentage of balls in a start and more properly, fourth-highest since the "top" pitcher, Wade Miley in 2018, only faced a single batter due to team trying to get the Dodgers to sit their lefties (Muncy started, but Chris Taylor got the nod over Joc Pederson due to Miley's presence on the mound).
Milwaukee's bullpen fared better the rest of the way. Hader never made it into the game, with the Brewers opting to use Eric Yardley, Justin Topa, Freddy Peralta, and Drew Rasmussen to close out the rest of the game. The Dodgers were no more aggressive at the plate, but this quartet held the club to just three hits, with the only real blemish a 447-foot homer allowed to Seager.
[embedded content]
For the Dodgers pitchers, it was a delightfully uneventful game, peppered mostly by the Brewers swinging and missing, something they did 30 times, leading to 15 strikeouts. Walker Buehler pitched effectively, striking out eight batters in his four innings of work, with Milwaukee's only runs coming by way of Orlando Arcia — can't predict baseball! The Dodgers were extremely careful with Buehler, who has missed time due to issues with blisters. Julio Urias was just as solid in relief, throwing three scoreless innings and whiffing five batters. Blake Treinen and Kenley Jansen finished things off for Los Angeles.
Milwaukee's best chance to force the game into extra innings came in the ninth against Jansen, who walked Jace Peterson, giving a final opportunity to Christian Yelich, the 2018 NL MVP and the 2019 runner-up. The at-bat went like most of the rest of the game did for the Brewers' offense; Yelich watched the best pitch he'd seen all night, an 88 mph cutter in the center of the zone, go by for a strike. Yelich faced 37 fastballs/sinkers/cutters in the center Gameday zone in 2020, swinging at 26 of them and putting 11 into play. Yelich did finally swing twice, one a pitch far enough outside that Jeff Francoeur might have taken, and the game ended on a swing and miss against one of Jansen's signature cutters.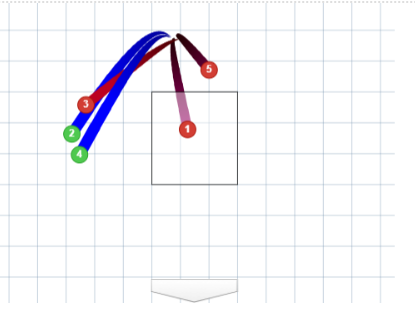 For any partisans of other teams looking for a silver lining, Jansen's velocity last night continued to be off his normal levels, even lower than his velocity in recent weeks.
I'm concerned about Jansen. Location and movement haven't been great but velocity has been way, way down in his last four appearances, reaching a new low point in game 1 of the WC series. pic.twitter.com/gcGSeCnZbs

— Choice Fielder (@choice_fielder) October 1, 2020
The Brewers go into Game 2 hoping for another deep start by Woodruff, with Clayton Kershaw taking the mound to the Dodgers. Milwaukee's best hope, with the Dodgers having already using Urias for a long relief stint, may be to get to Kershaw early and stretch the Dodger bullpen into a Game 3 rubber match. Of the teams still alive this postseason, ZiPS gives the Brewers the longest odds, with only an 11.5% projected chance of beating the Dodgers in both games. But I'm saying there's a chance!