Take a glance at the early season
position player WAR leaders
and you'll find
Mike Yastrzemski
leading all of
MLB
, making his grandfather proud. Next you'll find
Jose Ramirez
on his quest to show that last year's struggles were just a blip. The player with the third-highest WAR in this young campaign is
Mariners
center fielder
Kyle Lewis
, who was leading the category yesterday. After a sparkling debut last September, Lewis is proving that his hot start wasn't a fluke.
With another two yesterday, Lewis has now collected hits in all seven games this season and has strung together five multi-hit performances in a row. All told, he's hit .448/.500/.655 this year and owns a .320/.355/.610 line in his young career. His historic September included blasting home runs in his first three major league games, becoming just the second player in history to accomplish the feat. He would go on to hit three more through the first 10 games of his career.
But that success came with some glaring red flags. He posted a 38.7% strikeout rate last year, and it is only a touch lower so far this season. His tendency to swing and miss often only confirmed the skepticism some had about his hit
tool
. His swinging strike rate is a bit lower this year (from 17.7% to 15.2%), and his underlying plate discipline stats look a little better — a lower overall swing rate, particularly on pitches out of the zone — but his high strikeout rate will likely follow him throughout his career. Thriving in the majors with such a high swinging strike rate is difficult but not impossible.
Bryce Harper
ran a 15.3% swinging strike rate last season while posting a 125 wRC+. The difference for Lewis is that many of those whiffs are coming with two strikes, driving up his strikeout rate. Harper can survive with such a high swinging strike rate because he's aggressive early in the count but adjusts his approach with two strikes.
Lewis's impact power is still showing up this year. His first hit of the season was a 438-foot blast off a 95-mph fastball from Justin Verlander.
[embedded content]
That ball exited the stadium at 110.9 mph, the hardest hit of Lewis's career. After launching that fastball into the stratosphere, Lewis has seen a steady diet of breaking balls. Nearly half the pitches opposing pitchers have thrown to him this year have been curveballs or sliders. He's still swinging and missing at those breaking balls just as often, but he's adjusted his approach to combat the new pitch mix he's seeing. His second hit of the season was a 358-foot home run to right field off an 82.5-mph curveball from Lance McCullers Jr.
[embedded content]
Seeing so many breaking balls on the outer half of the plate has forced Lewis to sit back and wait for those pitches. He has pulled just one hit this season, that home run off Verlander on Opening Day. The rest of his 13 hits have all gone to the right side or up the middle. While working his way through the minors, his pull rates sat around 40%. During his September call-up, Lewis wasn't as pull-happy as you'd expect based on his track record. He sprayed the ball around the field with the majority of his batted balls going to right. The result is a pretty extreme spray chart.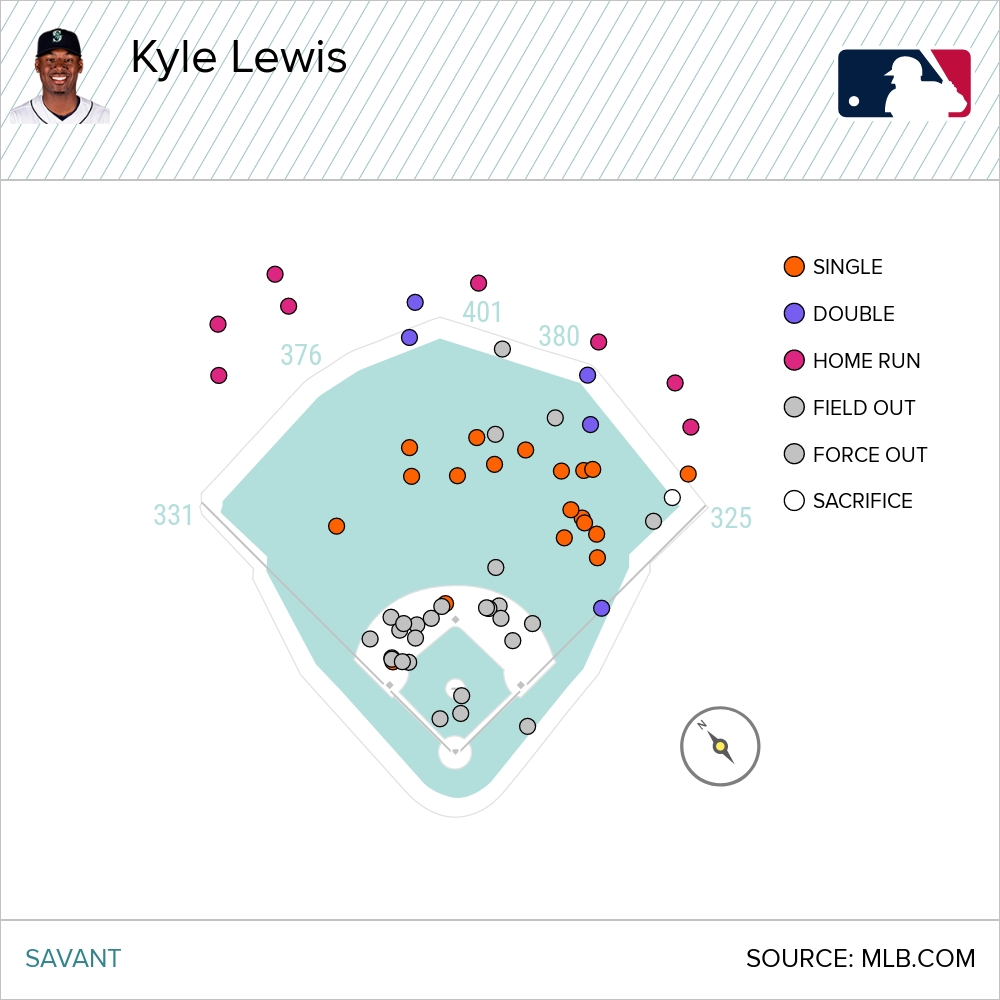 The fact that he was able to successfully make this adjustment based on how he was being pitched to is a sign that maybe his hit tool is just a little more robust than expected. But this adjustment has also come at a cost. After that home run off McCullers, all the rest of his hits have been singles poked up the middle or slapped to the other side. He's definitely shown that he can hit the other way with easy power, but right now, his approach is limiting his best tool at the plate.
The ability to adjust to what pitchers are throwing to him is an important skill to learn. But over-adjusting to only focus on one type of pitch or one half of the plate may be taking it too far. Lewis alluded to this in an interview with David Laurila earlier this spring:
Development is about continuing to trust your process and your approach. For instance, when pitchers show that they want to bust you in, are you going to be able to stay with your approach, or are you going to give in to what they're trying to do? And that becomes tougher at each level, because there's a lot more mix. When there's more mix, there's more information in your head. You need to understand how to tunnel all of that back towards what you're trying to accomplish. You need to stay true to who you are.
The true test for Lewis will be to see if he can combine this approach focused on covering breaking balls on the outer half of the plate with his ability to crush fastballs. Pitchers are going to notice that he's sitting on outside pitches and will begin to challenge him with fastballs on the inner half. This tug of war between pitcher and hitter is simply part of the game within the game, and Lewis is in the midst of learning how far he needs to go to stay ahead while continuing to leverage his strengths.
One other encouraging note has been Lewis's ability to stick in center field. After his devastating knee injury, many assumed that he'd be relegated to a corner outfield spot, hoping that his bat could carry his value. He spent about half his minor league innings in center field in 2019 but picked up just a couple of appearances up the middle in September. He's made every start in center this year and has looked good. The other day, he made this five-star catch on a sinking liner off the bat of Justin Upton:
Catch probability: 15%
Kyle Lewis: No problem pic.twitter.com/Pp12RpmShf

— MLB Pipeline (@MLBPipeline) July 29, 2020
That's a nice play and suggests that his range and mobility have recovered well after his knee injury. If he's able to hold his own in center, his bat won't have to carry as much of his value. And if his hit tool is a little better than expected, then he'll be a premium center fielder for the Mariners for years to come. With Jarred Kelenic and Julio Rodriguez looking like they're more suited for corner outfield spots anyway, Seattle may have all the ingredients for an elite outfield in just a couple of years.