During this shortened season, pitching depth has become a crucial separator for contending teams. With injuries taking a greater toll on pitching staffs and hurlers still ramping up after an abbreviated summer tune-up, many teams have had to scrounge to fill all those vacancies. The
Tampa Bay Rays
entered the season with one of the
deepest pitching staffs
in
baseball
. They led the majors in league- and park-adjusted FIP last year, using 33 different pitchers throughout the season, and the bulk of the staff returned in 2020.
That depth will be tested after a rash of injuries decimated the Rays' rotation. Both Charlie Morton and Yonny Chirinos were placed on the Injured List this week, Andrew Kittredge left his start yesterday after facing just two batters, and Brendan McKay was shut down from throwing at the Rays alternate training site yesterday. To make matters worse both Blake Snell and Tyler Glasnow have been slow to ramp up to full strength after getting a late start to pre-season activities — Snell had lingering issues with his elbow and Glasnow tested positive for COVID-19. The current rotation depth chart for Tampa has Snell and Glasnow at the top, Ryan Yarbrough next, and a bunch of question marks after that.
Two possible candidates to step into the rotation are
Trevor Richards
and
Jalen Beeks
. Both are intriguing — Richards possesses a killer changeup but has struggled to maximize his entire repertoire. Meanwhile, Beeks has made some real improvements to his approach that gives him considerable upside if he were to join the rotation.
Beeks was acquired by the Rays from the Red Sox in mid-2018 when Boston traded him straight-up for Nathan Eovaldi. He had just made his major league debut in Boston earlier that year but struggled to make an impact during his first two seasons in the bigs. He's posted a 4.49 FIP across more than 150 innings during 2018 and 2019. Most of those innings came as a bulk reliever used after an opener. His strikeout rate during that time was a lackluster 19.1% and his 9.3% walk rate was a bit above league average.
Through 10 innings this season, his results have taken a drastic and positive turn. He's more than doubled his strikeout rate to 39.1% and lowered his walk rate to 6.5%. A nasty run of bad batted ball luck has pushed his ERA up over five but his FIP is a sterling 1.71. With such a small sample, it would be prudent to assume that these improvements are just early season noise. And yet, there are a few underlying stats that might indicate that he's unlocked something in his arsenal.
On the surface, Beeks' fastball doesn't appear all that exceptional. It crosses the plate at a meager 92.5 mph on average and it has an extremely low spin rate for a four-seam fastball at just 2011 RPM. But despite these two characteristics, it has a tremendous amount of ride, moving vertically nearly two inches more than average for fastballs thrown with similar velocity as his. We've become used to seeing high-spin fastballs generate tons of ride — Justin Verlander's is perhaps the ideal form of this pitch. But a low-spin fastball with ride is a rare sight. Beeks is able to create that kind of movement profile because he throws his fastball with nearly 100% spin efficiency. That is, nearly all of the spin imparted to the pitch contributes to the movement of the pitch, in this case a tremendous amount of back spin.
This is a new development for his fastball. Last year, his fastball spin efficiency was 82.9%, good but not elite. He's increased his efficiency to 94.3% this year and that's given him an extra two inches of ride on the pitch. The result: a skyrocketing whiff rate. Among all pitchers who have thrown at least 25 fastballs this season, Beeks' fastball has the second highest whiff rate. When batters swing at his fastball, they miss almost half the time (43.6%). Last year, his fastball generated an 18.7% whiff rate. With such a dramatic improvement on his fastball, no wonder his strikeout rate more than doubled.
Beeks pairs his newly improved heater with an excellent changeup. And like his fastball, his changeup has also seen similar improvements in 2020. Last year, his changeup spin efficiency was 87.6%. It's up to 93.0% now, the 12th most efficient changeup thrown this season. This increase in efficiency has changed the shape of the pitch slightly. It lost about two inches of drop but gained an additional inch of fade. As a result, batters aren't putting the pitch on the ground as often but they're swinging and missing more.
With these two plus pitches forming the foundation of his repertoire, he's focused his pitch mix to ensure both of them are featured heavily. Here's a look at how his pitch mix has evolved over the last few years.
Jalen Beeks, Pitch Mix
| Pitch Type | 2018 | 2019 | 2020 |
| --- | --- | --- | --- |
| Fastball | 42.3% | 44.0% | 40.5% |
| Cutter | 20.0% | 5.7% | 14.6% |
| Changeup | 18.8% | 31.4% | 44.9% |
| Curveball | 18.4% | 18.8% | 0.0% |
His usage of his changeup has steadily increased year-over-year and his curveball has all but disappeared this year. He's increased the usage of his cutter over his curveball, and throws it almost exclusively to left-handed batters. That breaking ball looks and acts more like a hard slider with some sweeping horizontal movement. It generates an above-average number of whiffs for a cutter and gives him a third option to use against same-handed batters.
Beyond the improvements to the individual pitches in his repertoire, he's also tinkered with his throwing motion and his release points. Here's a look at his motion from 2018:
[embedded content]
And here's what it looks like in 2020:
[embedded content]
His motion is now far more compact with a much shorter arm path. That short arm action also has the added benefit of hiding the ball against his body for nearly his entire wind up.
You may have also noticed that his position on the pitching rubber changed dramatically in those two GIFs. Here's a look at his position on the mound over the last three years: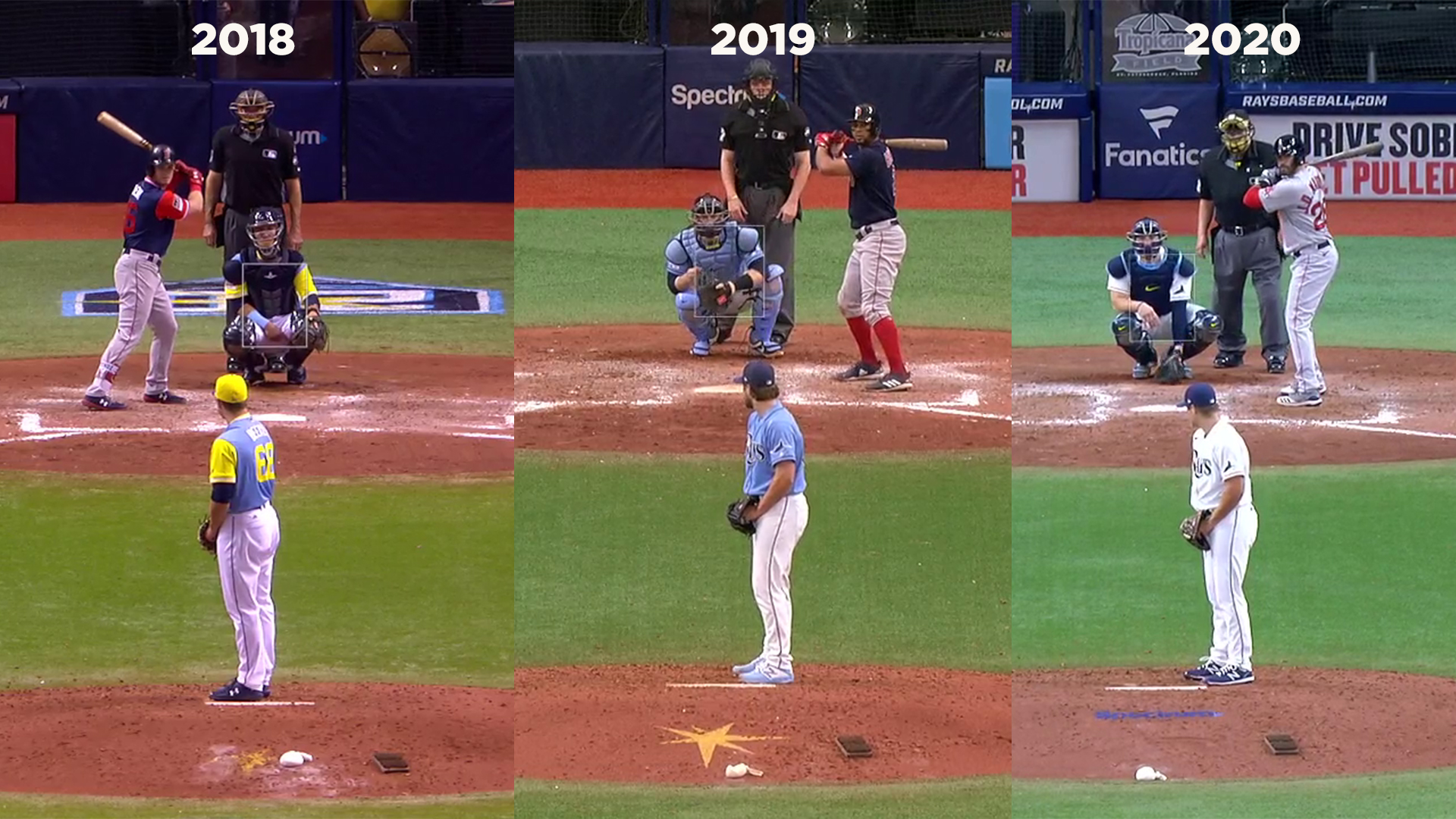 He's moved steadily towards the third base side of the rubber, to the point where he's barely touching it this year.
All of these adjustments have culminated in vastly improved results this season. If he does temporarily join the rotation while the Rays get healthy, he has the chance to provide quality innings for a team with their eyes on the playoffs. And when Morton and Chirinos do return from the IL, Beeks' gaudy whiff rates could play well in high-leverage innings. That sort of role flexibility has been a hallmark of the Rays for years now and Beeks is just the latest in a long line of successful pitching projects down in Tampa.