On Monday night, Framber Valdez struck out 11 Angels across seven innings in an easy 11-4 Astros win. All 11 strikeouts came off of Valdez's curveball — six swinging and five looking. It wasn't a completely clean performance, however. The left-hander allowed four runs on six hits and two walks but the Astros offense powered their way past a hodgepodge collection of Los Angeles pitchers. Still, he pushed his strikeout rate up to 26.0%, a nearly six-point increase over what he posted last year. While the additional punch outs are a nice development, the biggest difference for Valdez this season has been his excellent command.
Valdez's raw stuff has never been a question. He relies on a plus curveball and a mid-90s sinker, both of which induce above average whiff rates and result in groundball contact over 60% of the time batters put them in play; his 62.9% groundball rate over the last three years is the third highest in baseball since his debut in 2018. He enjoys two key skills for success on the mound but he's been undermined by his complete lack of command. Among all pitchers who threw at least 100 innings between 2018 and 2019, Valdez's 14.1% walk rate was the third highest in the majors.
A high walk rate and a high groundball rate can be a dangerous combination. Groundballs rarely turn into extra-base hits but they find holes in the defense more often than fly balls. With runners on base, groundballs turn into hits a little more often, from a BABIP of .234 with bases empty to a BABIP of .253 with runners on. For Valdez, that's meant a BABIP higher than league average and a strand rate well below league average, a combination that led to an ERA almost a full run higher than his FIP last year.
In a little under 40 innings this year, Valdez has dropped his walk rate by seven and a half points, down to just 5.8%. His strikeout-to-walk ratio has gone from an ugly 1.50 to a very good 4.44. And he's made this transformation while still maintaining his elite groundball rate. The result is a sterling 2.35 ERA backed by a just as good 2.58 FIP.
When a pitcher dramatically improves his walk rate like Valdez has, the obvious thing to check are his plate discipline stats:
Framber Valdez, plate discipline, 2018–2020
| Year | Zone% | Swing% | Contact% | F-Strike% |
| --- | --- | --- | --- | --- |
| 2018 | 44.7% | 38.7% | 78.4% | 50.6% |
| 2019 | 49.9% | 43.4% | 75.7% | 58.7% |
| 2020 | 53.0% | 43.8% | 77.9% | 61.0% |
The differences are subtle but their impact has obviously been remarkable. Valdez's zone rate was just a bit above league average last year but that didn't have much effect on his walk rate. This year, he's increased it by three more points and his walk rate dropped like a rock. Batters aren't swinging at his pitches any more often than they have in the past and they're making contact at a similar rate. A few more called strikes can't be the whole story.
Here's a table showing his zone rate broken down by pitch type over the last three years:
Framber Valdez, plate discipline by pitch type
| Year | Four-seam | Sinker | Changeup | Curveball |
| --- | --- | --- | --- | --- |
| 2018 | 51.7% | 43.1% | 42.9% | 41.9% |
| 2019 | 47.4% | 59.9% | 39.7% | 41.0% |
| 2020 | 44.4% | 59.7% | 44.1% | 44.8% |
Valdez can reliably locate his sinker in the zone and he's locating his two secondary pitches in the zone more often this year. But the command of his four-seam fastball has been a problem for him. The league average zone rate for a four-seam fastball is around 53%. Valdez's been well below that throughout his career. A simple way to increase his overall zone rate would be to cut it out of his pitch mix and that's exactly what he's done this year. After throwing it around 20% of the time in 2018 and 2019, he's thrown just nine four-seam fastballs in 2020. Instead, he's turned to his sinker more often and has increased the usage of his changeup as well.
His four-seamer has never been a standout pitch for him. It dropped like a sinker without the trademark tailing action of a sinker. He used it most often early in the count, most likely trying to establish the fastball so that he could work his curveball off of it. But because he had trouble locating it in the zone, he often fell behind the batter when using it. To make matters worse, batters crushed it to the tune of a .421 wOBA. Dropping it from his repertoire was an easy adjustment to make.
The command of his curveball has also improved this year. We already saw that he's throwing it in the zone more often this year — that's a decent proxy for control — but when it's thrown out of the zone, he's commanding it in better locations. Here are a pair of heat maps from 2019 and 2020: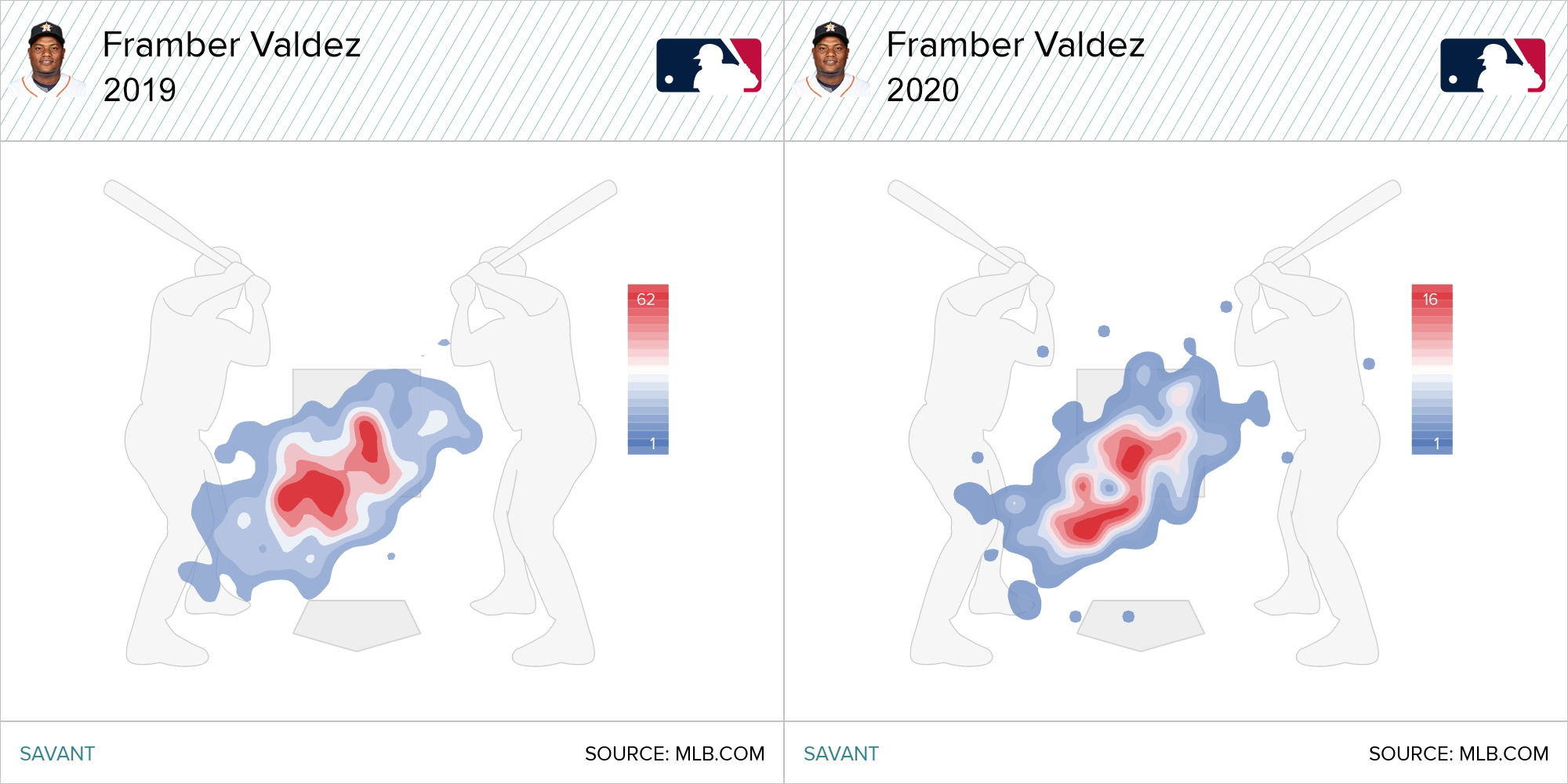 The hottest parts of the heat maps are generally the same — low and away from left-handed batters. But this year, the outer edges of the heat map are a little tighter than last year.
Using Baseball Savant's attack zones, Valdez threw his curveball in the "Waste" zone 16.2% of the time last year. These are pitches that are so far out of the zone that they're usually easy takes by the batter. The league average "waste" rate for curveballs is around 15%. This year, he's throwing his curveball in this zone just 8.8% of the time, one of the lowest "waste" rates for a curveball. Eliminating these non-competitive pitches has led to a higher swing rate on his curveball. That isn't necessarily a bad thing since he's inducing a whiff nearly 40% of the time a batter swings at the pitch, and if hitters do make contact, they're putting it on the ground more often than not.
One last thing that may be contributing to his improved command is more consistent mechanics. Here are his release point plots from 2019 and 2020: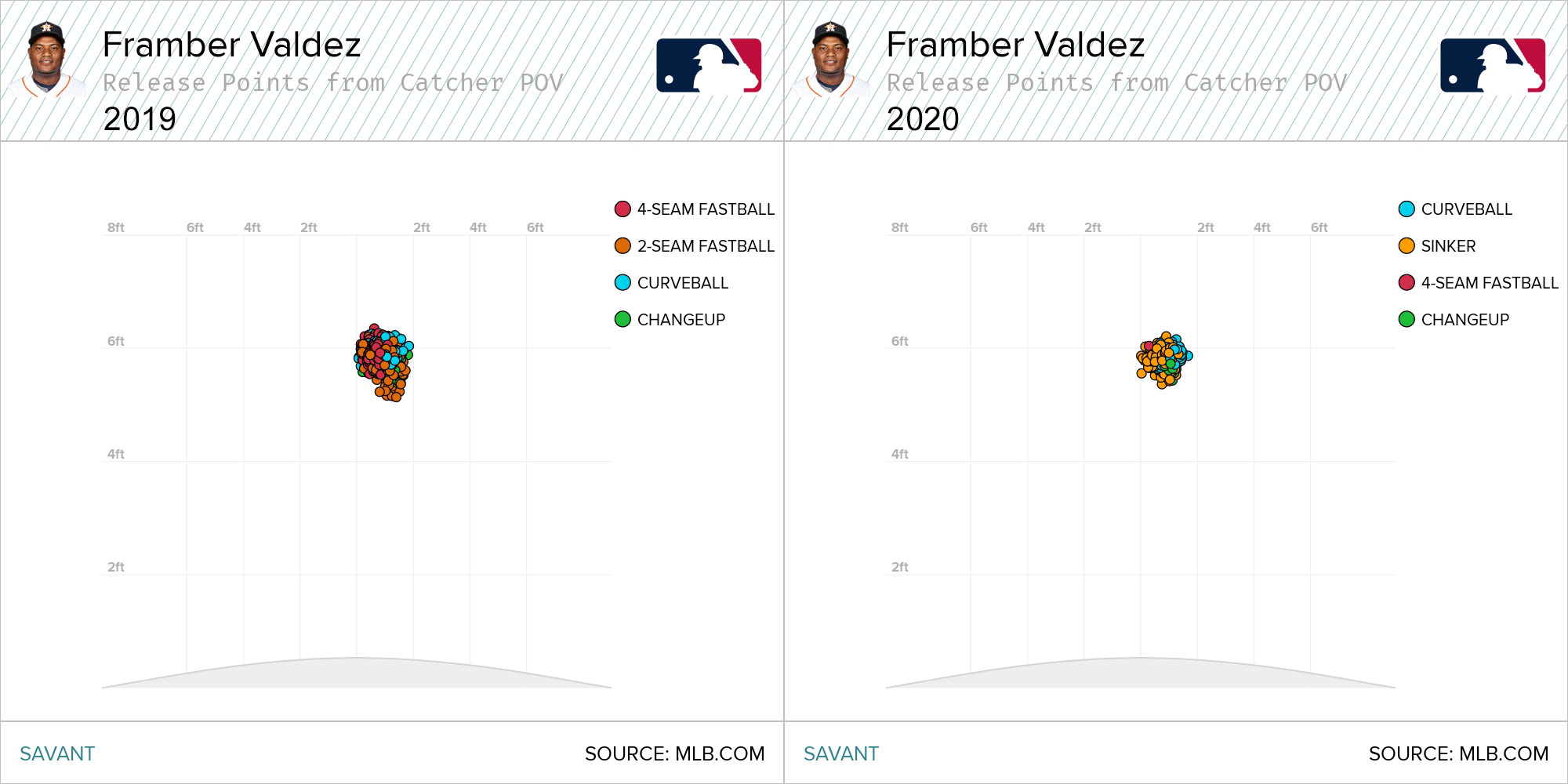 His release points are a little more tightly concentrated this year. The standard deviation of his horizontal release points dropped from a third of an inch last year to a quarter of an inch this year. A more consistent release point should have a positive effect on his command and it would likely help him disguise his pitches out of his hand. Baseball Prospectus doesn't have pitch tunnel data for the 2020 season yet, but I wouldn't be surprised to find that his tunneling is greatly improved this year.
The underlying adjustments Valdez has made to his pitch mix and mechanics have led to a dramatic improvement to his command. Adding a greatly reduced walk rate to a package that already included an above average strikeout rate and an elite groundball rate has led to a breakout season for him. With the Astros pitching staff wracked with injuries, Valdez's emergence as a dependable starter couldn't have come at a better time.
Read More