We need your support to make FanGraphs sustainable so you can continue to enjoy all of the articles you've come to rely on and enjoy, like this one.

We're asking for your help to make it through the offseason and ensure that we're here to cover baseball in the 2021 season and beyond. You can read more about the state of the site here.
For much of Monday night's Braves-Dodgers clash, the Dodgers seemed to be on the defensive. When the ninth inning began, the score was knotted at one (spoilers!). It was tied not because both teams were equal in the scorebook, but rather because the Braves had failed repeatedly to cash in on their chances.
Through eight innings, Atlanta left 10 runners on base to Los Angeles' five. In the fourth, they put two aboard with consecutive one-out walks against Walker Buehler, who struggled with his control all night. Two on, one out: these are the situations that can make or break a start, and Buehler skated out of trouble by retiring Nick Markakis and Austin Riley.
In the sixth, the Braves knocked again. Travis d'Arnaud and Ozzie Albies led off the inning with singles, chasing Buehler from the game. Brusdar Graterol came in with no one out and precious little margin for error. When he escaped without damage — in six overpowering pitches, no less — he and Buehler exulted in it:
[embedded content]
For a while, it felt like these escapes might be the lasting images of the game. Dustin May came in after Graterol, but after a clean seventh inning, he lost his way in the eighth. He gave up a leadoff double to Marcell Ozuna, a scorching line drive to the wall. He intentionally walked Dansby Swanson (a wild sentence to write) to bring up pinch hitter Pablo Sandoval, then hit Sandoval with a 2-0 pitch.
It was time, once again, for an escape act. Dave Roberts turned to Victor Gonzalez, a converted starter with a heavy sinker and wipeout slider. Gonzalez made Charlie Culberson (yeah, the Braves went deep into the bench on this one, more on that later) look lost. He threw a sinker that Culberson was late on for strike one, then a slider that Culberson was way out in front of for strike two. After Culberson spoiled another slider with an emergency swing, Gonzalez buried a third straight slider and celebrated appropriately:
[embedded content]
There's no real logic to the thought that a team that squanders chances is going to inevitably lose. A 1-1 game heading into the ninth inning is roughly a 50-50 proposition. Don't tell our fallible brains that, however. I, a theoretically rational observer, was ready to write a recap of the Braves squandering their chances and the Dodgers, inevitably, converting some nonsense string of grounders, walks, and bloops into an unsatisfying end to a tense duel where Atlanta had all the chances. I was ready to show, in essence, endless loops of this:
[embedded content]
The Braves didn't need any of that high-wire act to hold the Dodgers to a lone run over the first eight innings. Max Fried is an ace, and he looked the part today. He struck out nine Dodgers over six strong innings while walking only two. The only damage came on an Enrique Hernandez home run in the fifth.
Chris Martin followed with a perfect seventh. Will Smith (the Atlanta pitcher, not the Los Angeles catcher) was just as good in the eighth, despite a defensive alignment that could best be described as "oh please, not like this":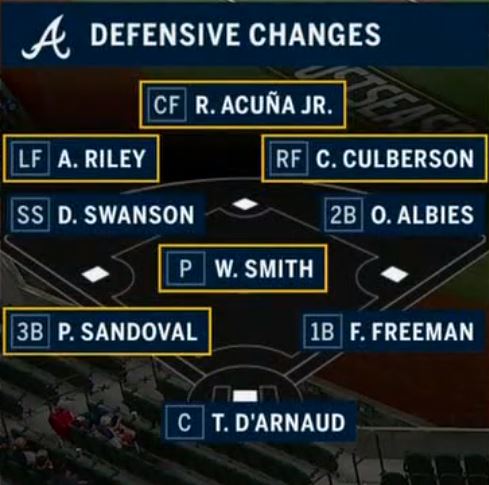 Adam Duvall left in the first inning after feeling a twinge in his back. Cristian Pache, his replacement, was pulled for Sandoval's pinch hit appearance. Culberson then replaced Markakis for platoon reasons, which left the Braves fielding a lineup of castoffs and out-of-position bats.
Yes, the Dodgers' victory was preordained. Only, baseball doesn't work that way. Blake Treinen, the team's most recent reclamation project, came in for the ninth. Austin Riley proved how ephemeral "the way things feel like they should go" is right away:
[embedded content]
Those images of celebrating Dodgers that dominated the early innings? They don't count for anything. There's no scoreboard for positive emotions shown after a big play, though Riley was no slouch there either:
[embedded content]
Even as he took a fake selfie with Ozuna in the dugout, the game felt over. It wasn't over, of course — a one run lead is one cement-mixer slider away from a tie game, even in cavernous Arlington. A few minutes later, however, it was over for real. Ronald Acuna Jr. smashed a grounder through the infield for a double, and when Ozuna drove him home two batters later, Acuna reveled in the moment:
[embedded content]
Atlanta wasn't done. Ozzie Albies put an exclamation point on the inning with a two-out, two-run shot that somehow landed directly in closer Mark Melancon's glove:
[embedded content]
The Dodgers didn't make the ninth interesting. They went down in order. That sequence of bloops and baserunning that would have snatched victory from the jaws of defeat was never real. The Braves, who looked like the better team all night, were also the winning team. Sometimes baseball works out that way.
The series will pick back up today, less than 24 hours after Game 1 started. Today's game won't affect tomorrow's in any noticeable way other than reliever usage. The Braves aren't magically the team of destiny now, though their four-run outburst might give them that aura. The Dodgers aren't cooked; they'll send Clayton Kershaw, Atlanta will bring Ian Anderson, and ZiPS thinks Los Angeles is about 60% likely to win the game.
Just because last night's catharsis won't carry over into the rest of the series doesn't mean it doesn't feel good for Atlanta, though. In a tight Game 1, both teams got their cheering and celebrating in. The Braves simply got to laugh last, and that was the difference.