The
Chicago Cubs
own the third-best record in all of
baseball
and have raced out to the
game
's biggest division lead. The
Chicago White Sox
are currently third in their division, in the thick middle of the American League playoff
picture
as
we approach the season's halfway point. And yet, as the two of them prepare to square off at Wrigley Field this weekend, because of the way each teams' pitching staffs are constituted, I prefer the Sox' chances of making a deep postseason run more than I do the Cubs'. Here's why.
Both Chicago clubs can hit (both are top five in hitter WAR) but are succeeding at preventing runs in diametrically opposed fashion. The Cubs starters have been great. They have the lowest BB/9 in baseball at 1.80, they're fourth in starter ERA, second in FIP (3.24 and 3.25, respectively), third in innings pitched, third in WAR (including two of the top 10 individual WAR-producing starters, Kyle Hendricks and Yu Darvish), and they're keeping the ball in the park, allowing fewer homers than any other rotation in baseball except for the Reds and Cardinals, who haven't played as many games due to clubhouse viral infections.
But of the 10 teams that currently have
playoff odds
above 80%, the Cubs bullpen is
the worst
. Cubs relievers have the eighth-worst ERA in baseball, the fifth-highest walks per nine, and they've given up more homers (13) than the starters (12) in 50 fewer innings of work.
That's not to say some individuals in the Cubs relief corps aren't performing. After hopping around the fringe of rosters for a couple of years, Rowan Wick has pitched well for two consecutive seasons across about 70 combined innings in Triple-A and the big leagues. He's increased his curveball usage for the second consecutive year (it's his second year with the team) and has also developed a cutter since arriving on the North Side. I think he's a foundational, short-term bullpen piece. And after eight days off, Craig Kimbrel once again looks effective. His velocity was up upon his return (he was 94-96 in the outing before he was shelved, but has been 96-98 and touched 99 since coming back), and hitters have looked very uncomfortable against his breaking ball. He's struck out seven of the last 11 hitters he's faced. Ryan Tepera has also been surprisingly dominant (42% K%, 6% BB%, 50% GB% in about 8 IP) by leaning on his cutter, the movement of which dovetails nicely from his two-seamer: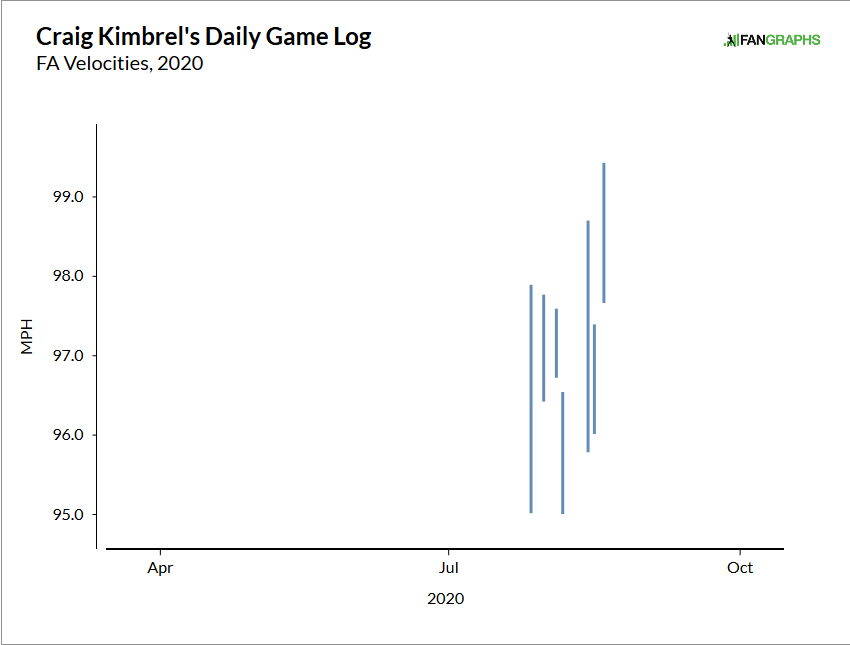 I'm not entirely sure what to make of Jeremy Jeffress. He has some underlying red flags — both his velocity and chase rate are down, while his hard hit rate is up — but he's allowing contact rates roughly the same as when he was effective in Milwaukee, and similar to Wick, he's suddenly leaning more heavily on his best secondary pitch, an upper-80s splitter, which he's throwing more than ever.
But that's it; aside from those couple of arms, the rest of the Cubs bullpen has not been good, and it'd be foolish to assume Kimbrel's seas won't turn rough again, or that a relief corps with just one guy under 27-years-old will henceforth maintain its health. They may soon enjoy some reinforcements by way of Tyler Chatwood's return from a back injury, which may eventually enable the team to slide upper-crust prospect Adbert Alzolay, who had a great start Wednesday, into the bullpen (though he may need to stay ready to take a turn for a while, just in case someone goes down). Hard-throwing James Norwood may be effective if and when he returns from a shoulder injury, and a postseason run as their core of talent approaches the end of their deals (Anthony Rizzo, Javier Baez, Kyle Schwarber, Jose Quintana, and others are set to hit free agency in the next offseason or two) probably makes it more likely that the Cubs would bring hard-throwing youngster and top 100 prospect Brailyn Marquez, or 2020 draftee Burl Carraway, into the late-inning fold this summer, team-control timelines be damned. But until that happens, the Cubs are in a position where they're tenuously handing high-leverage relief innings to Kimbrel and a couple of guys with new approaches to which the league may yet adjust.
The South Side situation is almost the complete opposite. White Sox starters ranked 18th in the majors in strikeout-to-walk ratio, 19th in staff WHIP, 29th in First Pitch Strike% and In-Zone%, and are otherwise in the middle third of the league in most of the other cornerstone stat categories. Without Michael Kopech, and beset by shoulder injuries to Carlos Rodon and the usually-durable Reynaldo Lopez, the Sox starting pitching group is as translucent and thin as that very comfortable, hand-me-down t-shirt you should just get rid of.
The injuries have placed outsized importance on Gio Gonzalez, who turns 35 next month and is coming off a 2019 when he dealt with a dead arm period. Even though Dane Dunning (especially his curveball) looked pretty good in his debut start, the White Sox rotation is one injury away from cycling through bargain bin spot starters like Drew Anderson and Adalberto Mejia until either Lopez or Rodon (who, one might argue, would be in the bullpen on a truly competitive club) returns.
But while their rotation is flimsy, White Sox relievers have accrued the seventh-most WAR in baseball to this point, they're walking just 7.6% of opposing batters (fourth-lowest), and are in the top third in bullpen ERA and FIP. While late-inning stalwarts Alex Colome (who has walked just one hitter and has yet to allow a run this year), Ross Detwiler (who also hasn't walked anyone and has a new slider), and Evan Marshall (who is working with his secondary stuff much more than before and striking out hitters at a 33% clip, the highest rate of his career) are experienced veterans, the bullpen has been fortified by the emergence of rookies Codi Heuer, Zack Burdi (both of whom have pitched well enough to merit explicit re-evaluations I wrote about last week), and pop-up righty Matt Foster.
Foster, who I've now added to The Board, has had a velocity spike. After working 90-93 during my 2017 Fall League looks, Foster's fastball sat 92-94 and touched 95 mph last year, and it has been clocked at 93-95 and touched 96 in 2020. Plus his heater has other traits — near-perfect backspin and a flat approach angle, creating ride and carry at the top of the strike zone — that helps it miss bats. In fact, a league source indicated to me that Foster's fastball generated a roughly 8% swinging strike rate last year, but a glance at our pitch splits shows that, with just an extra tick of velo, it's generating a 13.3% whiff rate in 2020. He also has an out-pitch changeup to go with a viable slider, and he locates them well enough to work multiple, efficient innings. He's another Sox pitching prospect who, after several fallow years during which young arms were losing velocity, has recently gotten markedly better.
It's coincidental that such diametrically opposed pitching staffs happen to occupy the same city. I, like most folks in baseball, went into this year thinking that bullpens would play an even more important role than ever, both because of circumstantial scheduling reasons and because club thinking is generally shifting that way. You could argue that the Cubs rotation as currently constructed, with so many strike-throwers who work deep into games, is well-suited to balance the problem of a shallow bullpen for now. But if, as is so often the case in October, I have to pick one of these two bullpens to protect a one- or two-run lead from the sixth inning onward, I'm taking the White Sox group, barring a K-Rodesque Brailyn Marquez ascendancy.