After having typically appeared in the hallowed pages of Baseball Think Factory, Dan Szymborski's ZiPS projections have now been released at FanGraphs for nine years. The exercise continues this offseason. Below are the projections for the Oakland Athletics.
Batters
Marcus Semien's BABIP-aided regression to the mean was unwelcome, but Oakland received surprising production elsewhere from sources such as Robbie Grossman. That being said, the loss of Semien to free agency does create a bit of a vacuum, as a fair amount of the team's depth at shortstop from the last few years (Franklin Barreto, Jorge Mateo, Jurickson Profar theoretically) has moved on to other organizations. Chad Pinder is likely the de facto shortstop if the season started today, but there's a good chance that Oakland's starter in 2021 is not in this set of projections, unless Semien returns. Normally I'd think a player of his caliber would be loath to sign a one-year deal, but given the circumstances of baseball in 2020, who knows if a multi-year deal is in his future. Suffice it to say, it would have been highly useful for the minor leagues to exist last season so that the A's could have seen more of Vimael Machín or Nick Allen.
Oakland's offense will go as far as their current Big Three — Matt Chapman, Ramón Laureano, and Matt Olson — take them. Second base and right field do show up as weaknesses in the projections, and this is another place where the lack of a minor league season hurts the A's; they don't sign free agents to big contracts, so getting to look at some of that Quadruple-A talent is a valuable exercise. ZiPS is sort of optimistic about Khris Davis, but after a second down season, the ceiling has been lowered farther than that early scene in the Wonka factory. Oakland's top-level talent still keeps it in the high-80s in wins without a single move, but I'm quite uneasy about the team's overall depth.
Pitchers
The biggest question for the starting pitching is whether they actually meet the innings totals in our depth charts. It's a lot of frames for Jesús Luzardo and Sean Manaea, and the A's don't have a great deal of depth at the back-end of the rotation (or at least depth you actually want to be using). Like the shortstop situation, Oakland is thinner on those random low-velocity fourth-starter types that are normally well-present. We're still very early in the offseason (this is the earliest ZiPS debut!), so there's plenty of time to add a name or two to replace Mike Fiers and Daniel Mengden in that role. A.J. Puk's health is a serious question mark — shoulder surgery is scary! — and I wouldn't want to enter the season as a contender with Grant Holmes being the Plan B somewhere.
Similarly, the A's have some work to do with their bullpen depth, as three of their four best projected relief arms above are now free agents. If we don't count Puk in the bullpen as a possibility, only four pitchers project at the 100 ERA+ mark: Jake Diekman, J.B. Wendelken, Lou Trivino, and, by a hair, Brian Schlitter, who was re-signed as a minor league free agent. Diekman would seem to be the heir to Liam Hendriks by default, but his walks give me a serious case of Fernando Rodney heartburn. The A's will likely be able to sign some depth cheaply thanks to a league that should be miserly across the board — e.g. nobody claiming Brad Hand and his one-year contract — but since those signed players are not yet signed players, I cannot comment on them.
One pedantic note for 2021: For the WAR graphic, I'm using FanGraphs' depth charts playing time, not the playing time ZiPS spits out, so there will be occasional differences in WAR totals.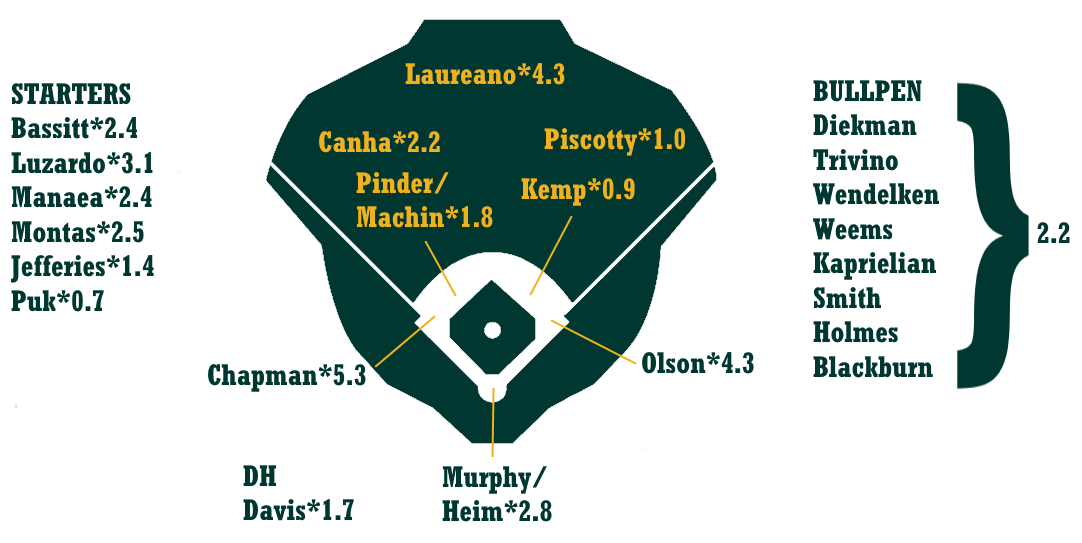 Ballpark graphic courtesy Eephus League. Depth charts constructed by way of those listed here.
Players are listed with their most recent teams wherever possible. This includes players who are unsigned, players who will miss 2021 due to injury, and players who were released in 2019. So yes, if you see Joe Schmoe, who quit baseball back in June to form a Finnish industrial death metal fourth-wave ska J-pop band, he's still listed here intentionally.
Both hitters and pitchers are ranked by projected zWAR, which is to say, WAR values as calculated by me, Dan Szymborski, whose surname is spelled with a z. WAR values might differ slightly from those which appear in the full release of ZiPS. Finally, I will advise anyone against — and might karate chop anyone guilty of — merely adding up WAR totals on a depth chart to produce projected team WAR. ZiPS is assuming that the designated hitter will continue in force in 2021; if it does not, there will be widespread minor adjustments across the board come April.
ZiPS is agnostic about future playing time by design. For more information about ZiPS, please refer to this article, or get angry at Dan on Twitter or something.
Read More