Last week, we covered the game's position players as part of our positional power rankings. Now we move to the pitching side, starting with the bottom half (16-30) of the starting rotation rankings.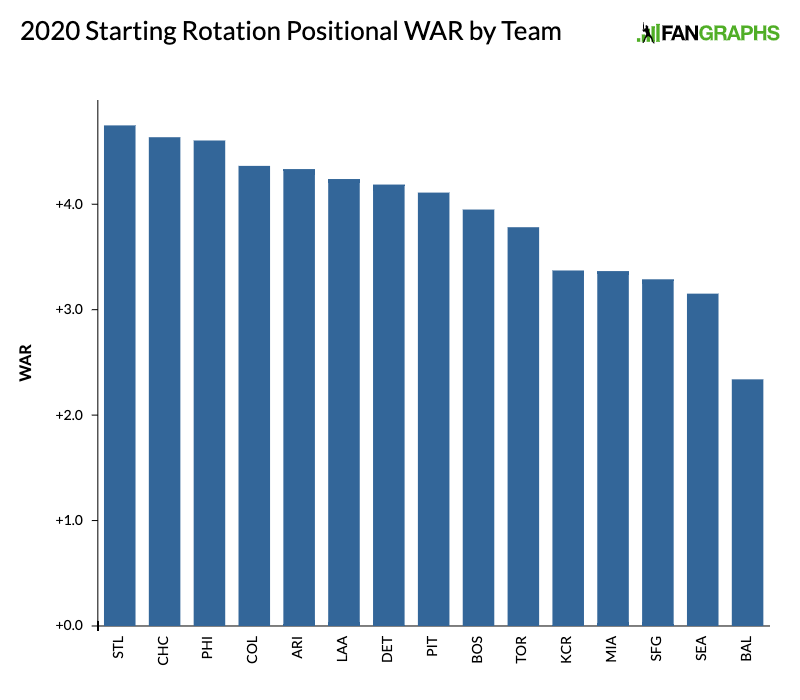 The latter half of the starter rankings are almost evenly split between the leagues, leaning 8-7 toward the National League. But five of the last seven are from the American League with each division represented at least once, furthering the notion that the AL is a league of haves and have-nots for at least another season. (Of those five, only the Toronto Blue Jays are seen as having an outside chance to compete and that's due more to their offense than anything else.)
Keep in mind that the short season tightens things up quite a bit, too. Consider last year's rankings, where the 16th-ranked
Reds
were projected for 10.6 WAR, three wins clear of the 24th ranked
Brewers
. This year the
Cardinals
slot 16th with a 4.7 mark, just 0.7 wins better than the 24th ranked
Red Sox
. A single over- or underachiever could sway things substantially for their team. Prospects might be the biggest needle-movers if they can secure roles;
Mitch Keller
(58) and
Brady Singer
(31) are the only
Top 100 arms
projected for 30-plus innings, while
Matt Manning
(28),
Spencer Howard
(24),
Nate Pearson
(21),
Tarik Skubal
(17),
Casey Mize
(14), and
Sixto Sanchez
(7) will battle for starts once the season gets underway.
The Cardinals, Cubs, Phillies, and Diamondbacks are seen as playoff dark horses (or frontrunners in some cases) based on their rosters as a whole, but if you had to select a rotation in the 21-30 range that could lead its team into a postseason berth, which one would you pick? Focus solely on the staff, avoid citing Trout & Co. or the Baby Blue Jays overcoming their rotation deficiencies, and let me know your favorite in the comments!