Earlier today, Paul Sporer took you through baseball's 16th-to-30th ranked rotations. Now, we get to the good stuff.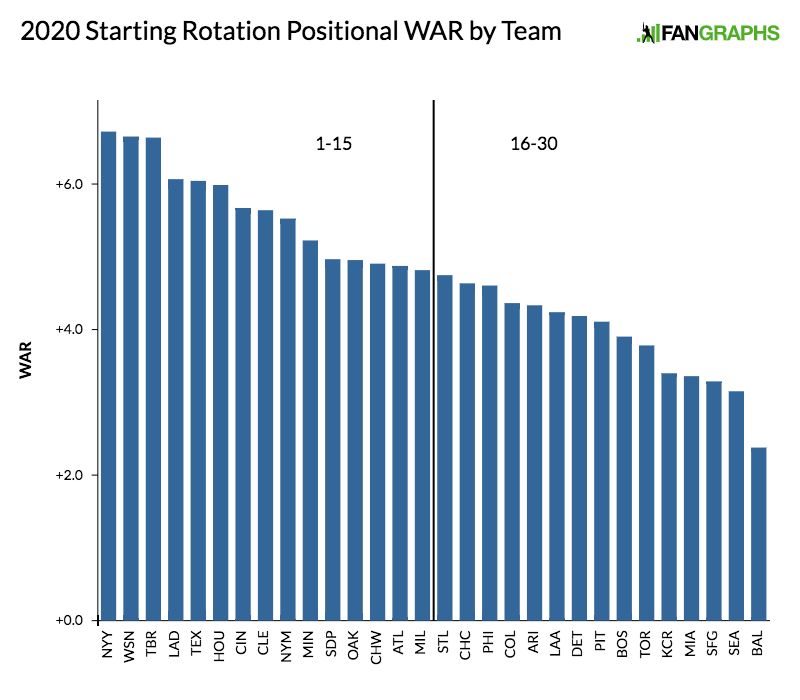 What is a starting pitcher? While baseball's rules have been relatively stable throughout the
game
's history, being a starter in 2020 means something very different than it did in 1870, 1920, or even 1970. A starting pitcher in the 1800s was frequently
the
pitcher in any given game. When Hall of Fame pitcher (and later, Twitter superstar),
Old Hoss Radbourn
pitched for the 1884 Providence Grays, he started 75 of the team's 114 games, completing 73 of them.
Being a starter meant something else in the early 20th century. They were still workhorses expected to finish a large percentage of their games, but they were part of a pitching staff, not lone wolves. Jack Chesbro was the last 50-game starter, in 1904. Four-man rotations became the standard and league leaders in games-started ranged from the high 30s to the low 40s. The only exception was one last surge in the early 70s from rubber-armed knuckleballers Wilbur Wood and Phil Niekro. The four-man rotation then became a five-man affair, and it's now been 33 years since a pitcher started 40 games (Charlie Hough, 1987) and 40 years since one threw 300 innings (Steve Carlton, 1980).
The role is still changing, and arguably, as tradition becomes less of a reason to do things in baseball, teams have been reimagining the starting pitcher position. Considerations like times through the order are looked at in a way you didn't find 50 years ago. The Rays dispensing with the whole concept and going with openers for a large percentage of their games has spread like wildfire around the league. A pitcher going five innings is no longer a mark of shame and even the workhorses aren't workhorses to the same degree. 2019 was very different even from 2009, the latter certainly not a time when starters were known for going nine innings. In 10 years, the average start dropped from 25 batters faced to 22 batters, and complete games dropped by more than two-thirds, from 152 to 45.
We're not just talking about teams that have trouble finding quality starters, either. Look at the rankings below, and you'll see all the top rotations, very few of which feature more than a workhorse or two. The Rays, a solid third in our ranks, achieve that lofty standing despite diminishing what a starting pitcher means. The Dodgers, our fourth-ranked team, will have a lot of short-inning specials after Clayton Kershaw and Walker Buehler. The Yankees and Astros, the first and sixth teams, went into Game 6 of the ALCS last year with planned reliever games, with no pitchers going three full innings by design.
2020 will be the oddest season of our lives — hopefully 2021 doesn't figure out how to be weirder — and for these top teams, the talent they have on-hand gives them an opportunity to take advantage of the strange contours this season has assumed. The team that ends up winning may not simply be the one with the best pitchers, but rather the one that most creatively imagines how to use pitchers in a 60-game season. Is going with a fairly straightforward rotation of veterans, as the Reds will, with at least four starting pitchers who can go deep into games prove prudent? Will a team like the A's, with the ability to push pitchers coming off injuries (and a suspension) through a sprint in a way they couldn't do in a 162-game marathon prove victorious? Will we see anyone regularly go much past the fifth inning? How do you keep pitchers healthy after a nine-month layoff featuring multiple ramp-ups?
I don't know what 2020 holds, but we may learn some new lessons about pitching that could only be taught in a season such as this. All we can do is line up the pitching staffs by talent and wait for the results.
Dan Szymborski is a senior writer for FanGraphs and the developer of the ZiPS projection system. He was a writer for ESPN.com from 2010-2018, a regular guest on a number of radio shows and podcasts, and a voting BBWAA member. He also maintains a terrible Twitter account at @DSzymborski.